Friday Favorite: Amy's Gluten-Free Shortbread Cookies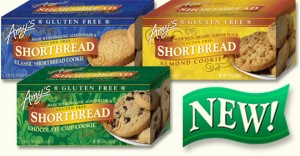 Yummy, melt-in-your-mouth buttery goodness are some of the words that describe Amy's new Gluten-Free Shortbread Cookies.
Shortbread Cookies have always, always been one of my favorites. The sweetness. The smooth and pure taste. Shortbread cookies are one of the things I have missed the most since going gluten-free.
That's why I was so excited that Amy's has come out with three new Gluten-Free Shortbread Cookies: Classic Shortbread, Almond and Chocolate Chip.
This week's BeFreeForMe Friday Favorite is a simple and perfect cookie enjoyed all by it's wonderful self or in your favorite recipe as an ingredient in a scrumptious pie crust.
Thank you Amy's for duplicating that melt-in-your-mouth goodness… gluten-free! And congratulations for being this week's Friday Favorite on BeFreeForMe.com.
Tags: Amy's Gluten-Free Shortbread Cookies, Friday Favorites, Gluten-Free Shortbread Cookies