Sunday, November 20th, 2011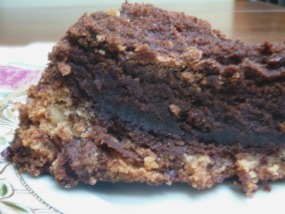 The holidays are here and pie season has begun. But as many gluten-free folks know the pie crust can be one of the toughest feats to master.
But doughy flour-based crusts are not a pie must-have. Being on a gluten-free diet has made me resourceful and creative while in the kitchen. My mind is always reeling with inventive uses and ways to incorporate common ingredients and mainstream products into my recipes.
That is why I decided to roll up my sleeves and include Amy's (melt-in-your-mouth!) Gluten-Free Shortbread Cookies into a pie crust that will have all guest (gluten-free or not) begging for seconds.
Check out the recipe for yourself and discover how these gluten-free cookies crumble into a decadent and delicious dessert.
Want to buy these cookies to make this recipe? Find them on Amazon.com: Amy's Classic Shortbread Cookies Gluten Free, 5.4-Ounce (Pack of 3)
Chocolate Torte with a Gluten-Free Shortbread Pecan Crust
The crust, made with Amy's Gluten-Free Shortbread Cookies is easy to prepare. This torte is extra rich & decadent… Enjoy!
Crust:
1 box (5.4 ounces) of Amy's Gluten-Free Classic Shortbread Cookies
1 ¼ cup of pecans (or walnuts)
2 tablespoons of sugar
¾ stick of butter, melted (plus more if needed)
Filling:
16-ounces of semisweet chocolate chips
1 cup of heavy whipping cream
6 large eggs
1/3 cup of all-purpose gluten-free flour
¾ cup of sugar
Preheat oven to 325 degrees.
To make the crust:
Put the cookies into a large ziplock bag. With a rolling pin, slightly roll over the cookies until they are crumbs, place in a medium bowl. Next place the pecans in the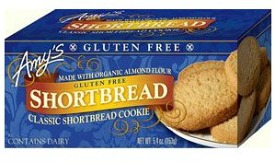 same bag, and roll with the pin to coarsely chop. Place in the same bowl.
Next, add the sugar and the melted butter into the bowl. Mix with a spoon until the crust mixture sticks together. Use more melted butter if needed.  Press the crust mixture into the bottom and slightly up the sides of a 9" springform pan. Set aside.
To make the filling:
In a medium saucepan place the chocolate chips and the heavy cream. Over low heat, stir continuously until the chocolate is melted. Remove from heat and set aside.
In a large bowl beat the eggs with a hand blender. Next add the gluten-free flour and the sugar. Continue to blend for about 8-9 minutes or until the mixture thickens.
Fold ¼ of the egg mixture into the chocolate and mix. Then fold the chocolate mixture into the remaining egg mixture until blended completely.
Pour the mixture into the prepared crust. Bake for about 60-65 minutes, or until a fork comes out clean when inserted into the center. Cool on a wire rack.
Serve as is, or with a scoop of (gluten-free) Butter Pecan Ice Cream.
Enjoy!
Serves 12.