Thursday, April 24th, 2014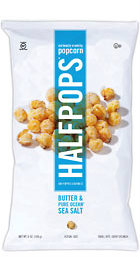 If you're a lover of the half popped kernels of popcorn at the bottom of a bucket of popcorn, fret no more – you can now enjoy these little curious and crunchy nuggets of joy… handfuls at a time.
HalfPops are fun little crunchy popcorn snacks that are full of flavor. Being the traditional gal that I am I love the  Butter and Pure Ocean Sea Salt flavor, but the cheesy-ness in me loves the Aged White Cheddar variety too.
HalfPops are also gluten-free, nut-free, and contain no corn syrup, Trans fat, artificial flavors, hydrogenated oils or preservatives. So they are good for you and full of fiber, as well.
All of these curiously & crunchy reasons are why this week's Friday Favorite is awarded to HalfPops! Congratulations!