Win-It-Wednesday: "Brassicas" Cookbook by Laura B. Russell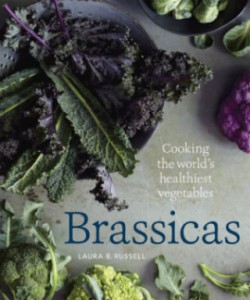 Everywhere I look restaurants are featuring items made with powerhouse vegetables such as kale, Brussels sprouts, cauliflower and arugula. And with good reason.
These vegetables, called brassicas, also include broccoli, mustard greens, cabbage, collard greens, radish, Bok choy and many others. They are  packed with nutrients, vitamins and minerals, so it is no wonder that folks everywhere are enjoying them in salads, side dishes, starters and smoothies.
I personally love many brassicas. Some of my favorites include arugula, Brussels sprouts and broccoli. But lately I have been using the same ho-hum method of preparation which usually consists of boringly steaming, boiling or broiling.
That is why I was so thrilled to receive a copy of Laura B. Russell's new cookbook, "Brassicas: Cooking the World's Healthiest Vegetables". (Laura is one of my favorite cookbook authors who also has published another one of my all-time favorite go-to cookbooks,  "The Gluten-Free Asian Kitchen: Recipes for Noodles, Dumplings, Sauces, and More" ).
The Brassicas cookbook is cleverly arranged by devoting a single vegetable or class of brassica – such as leafy greens, Asian brassicas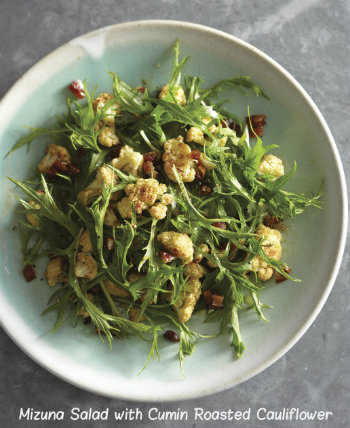 (like bok choy or napa cabbage) or root brassicas (radish, turnip, rutabaga) to each chapter. Laura then touches upon key information on preparation and nutrition of each vegetable followed with tantalizing recipes (80 total) and beautiful photographs for many of the dishes. All the recipes are either gluten free or easily adapted to be gluten-free (ie substitute a gluten-free pizza crust, or gluten-free soy sauce, etc.)
Some of the single vegetables that take center stage and have a whole chapter all to themselves thankfully include some of my favorites … and the recipes are to die for.  I now have a whole new reason to love and rekindle my stand-by recipe repertoire with the addition of the gems in this cookbook. My classic favorites like broccoli, cauliflower, kale and Brussels sprouts will never, ever become boring again. Thank you, Laura!
Some of my favorite recipes include Charred Brussels Sprouts with Pancetta and Fig Glaze; Roasted Radish Salad with Blue Cheese; Romanesco Summer Salad and Mizuna Salad with Cumin-Roasted Cauliflower.
All these healthy and tasty reasons are why I am so happy that Laura B. Russell has offered her new cookbook "Brassica: Cooking the World's Healthiest Vegetables" as the prizes for this Win-It-Wednesday on BeFreeForMe.com.
A total of two BeFreeForMe members will be selected to win a copy of "Brassica: Cooking the World's Healthiest Vegetables" Cookbook. One (1) winner will be randomly selected from the entries received before Tuesday, April 29, 2014 at 11:59 PM EST, and one (1) more winner will be randomly selected to win from the entries received between Wednesday, April 30 and Tuesday, May 6, 2012 at 11:59PM. SO – make sure you enter two times to win!
How can you win?
Easy!
Reply to this blog and tell us what your favorite brassica vegetable is! (Is it broccoli, cabbage, Brussels sprouts, cauliflower, bok choy, kale, arugula, radish, turnip, wasabi, collard greens, mustard greens, broccoli rabe, cress, Chinese broccoli, or another???)
Good luck, remember to eat your (brassicas!) vegetables… and as always,
Be Free!
Order your copy of "Brassicas: Cooking the World's Healthiest Vegetables" on Amazon.com and take advantage of FREE Shipping on orders over $35.
Tags: Brassica cookbook, gluten-free Brussels sprouts recipes, gluten-free cauliflower recipes, gluten-free kale recipes, Laura B. Russell, Win-It-Wednesday