Monday, April 30th, 2012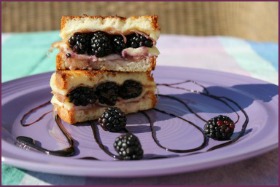 The Grilled Cheese sandwich is such a comfort food. The oozey, gooey cheese… the perfectly toasted gluten-free  bread that is crunchy & buttery on the outside, and soft & warm on the inside.  Perfection.
But if just the "basic" grilled cheese sandwich has so much perfection going on – what could a little creativity fueled by a bunch of fanatic grilled cheese lovin' foodies create? Udi's Gluten-Free Bread, in partnership with Horizon Organic Cheese, has taken on this feat and is sponsoring a challenge among a group of top food bloggers and chefs. The task? To create an original,  unique & delicious Grilled Cheese Sandwich.
First off… I was thrilled that I was asked to compete in this challenge… so thank you Udi's and Horizon Organics. Secondly, I've come up with three Grilled Cheese creations that will each blow your gluten-free griddles off.
Along with the first gluten-free grilled creation listed below, my Prosciutto & Blackberry Grilled Cheese Sandwich with a Balsamic Reduction, I have also created a Cherrywood Smoke Bacon & Date Stuffed Grilled Cheese Sandwich, which is reminiscent of my favorite appetizer of all time (Blue Cheese Stuffed Dates Wrapped in Cherrywood Smoked Bacon) and also a fantastic breakfast grilled cheese creation – a Honey-Apple & Strawberry Grilled Cheesy Breakfast Sandwich.
Thanks to Udi's Gluten-Free Bread and Horizon Organic Cheese for getting my grill-ative forces moving! Enjoy!

Prosciutto and Blackberry Grilled Cheese Sandwich with a Balsamic Reduction
Who said Grilled Cheese Sandwiches had to boring? This sandwich is salty, sweet and tangy…. All grilled into one. I really stuffed my sandwich with blackberries (since I love them so much) but use fewer or even substitute blackberry preserves. The Balsamic Reduction creates a unique dipping experience!
Ingredients:
About 1 tablespoon butter
2 slices of Udi's Omega Flax & Fiber Bread (or your favorite Udi's gluten-free bread)
2-4 slices of Horizon Organic Provolone Cheese
4 slices thin-sliced Prosciutto
10-12 ripe blackberries – or 2 tablespoons blackberry preserves
1/8 cup Balsamic Vinegar
2 tablespoons sugar
Instructions:
Spread 1 tablespoon of butter on one side of each slice of bread. Place one of the slices of bread butter side down in a skillet over medium heat.
Place 1-2 slices of cheese on the bread. Next top with ½ the prosciutto, the blackberries, the remaining prosciutto, and 1-2 slice of cheese.  Top with the remaining piece of bread, butter side up.
Cook for about 6-7 minutes, flipping to ensure each side is golden brown.
While the sandwich is grilling, heat the balsamic vinegar in a small saucepan over high heat. The vinegar will boil quickly, so whisk often to prevent scorching. Add in the sugar little-by-little. Cook, and continue whisking, until the vinegar is reduced by about ½ and is syrupy and thick.
Drizzle the Balsamic Reduction in a fun pattern on the plate. Place the halved sandwich on top. Dip sandwich into the reduction for a tangy dipping experience!
Makes 1 sandwich.