Udi's Gluten-Free Bread & Horizon Organic Grilled Cheese Challenge! Honey-Apple & Strawberry Grilled Cheesy Breakfast Sandwich
If you're like me and you love grilled cheese sandwiches so much that you could eat them for every meal, every day, you need a few suggestions on how to grill them up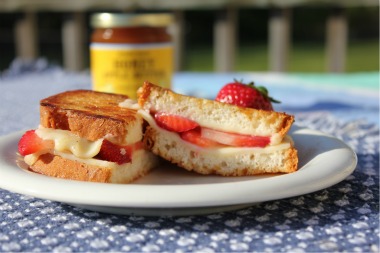 for breakfast.
This sandwich is sweet, crunchy and packed with fresh strawberries. Love by kids and adults alike, it will soon be a family favorite.
Want to see other Grilled Cheese Creations using Udi's Gluten-Free Bread and Horizon Organic  Cheese? Check out these links:
Prosciutto and Blackberry Grilled Cheese Sandwich with a Balsamic Reduction
Cherrywood Smoke Bacon & Date Stuffed Grilled Cheese Sandwich

Honey-Apple & Strawberry Grilled Cheesy Breakfast Sandwich
A breakfast sandwich with no eggs? Absolutely! The addition of Honey Apple Butter makes Udi's Gluten-Free Bread even softer than it already is. Good Morrrnnn-ing, Gluten-Free!
Ingredients:
2 slices of Udi's Gluten-Free White Sandwich Bread
3 Tablespoons Honey-Apple Butter, plus 1 tablespoon for the skillet (I used Trader Joe's brand – but any type will do)
About 1 tablespoon of butter, for the skillet
2 slices of Horizon Organic Provolone Cheese (or American)
2 Strawberries – washed, hulled and sliced thin
Instructions:
Spread 2 tablespoon of Honey-Apple Butter equally on each slice of bread.
In a large skillet, heat the butter, plus one tablespoon of the Honey-Apple Butter, over medium heat. Once melted, place a slice of bread Honey-Apple side up in the skillet. Top with a slice of cheese. Next top with the sliced strawberries and the second slice of cheese. Place the second slice of bread Honey-Apple side down on sandwich.
Cook for about 6-7 minutes, flipping to ensure each side is golden brown and the cheese is melted, ooey and gooey.
Serve immediately and start your day off Udi-fully.
Makes 1 delicious sandwich.
Tags: Honey-Apple & Strawberry Grilled Cheesy Breakfast Sandwich, Horizon Organic Grilled Cheese Contest, Udi's Gluten-Free Braed, Udi's Grilled Cheese Contest