Tuesday, January 26th, 2016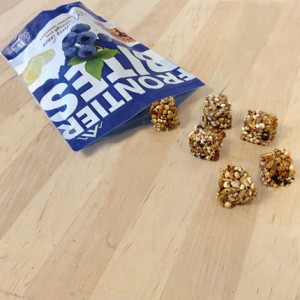 Once again BeFreeForMe is featuring one of our new favorite snacks as the Win-It-Wednesday prize… Frontier Bites!
Frontier Bites are crispy little snacks that can be eaten right out of the bag by the handful. We love that these snacks are not only Certified Gluten Free, but also soy-free, dairy free and GMO free as well.
These crispy little snacks are amazing. These simple little snacks are made with only 8 all-natural ingredients, yet they are irresistibly delicious.
And want to know what is really sweet? The naturally occurring sugars in Frontier Bites are amazing low, so you get an amazing healthy snack instead of a mouthful of artificial sweeteners.
So in a nutshell, Frontier Bite snacks are low on the glycemic index, all natural and full of healthy ingredients for a perfect snack… anytime and anyplace!
All of these reasons are why I have picked up two extra bags of the Almond Blueberry Lemon Frontier Bite Snacks for the prizes for this Win-It-Wednesday on BeFreeForMe.com.
One (1) winner will be randomly selected from the entries received before Tuesday, February 2, 2016 at 11:59 PM EST, and one (1) more winner will be randomly selected to win from the entries received between Wednesday, February 3 and Tuesday, February 9, 2016 at 11:59PM. SO – make sure you enter two times to win!
How can you win?
Easy!
Reply to this blog and tell us what Frontier Bites Flavor looks the best to you. Is it the Macadamia Pineapple Coconut, the Pecan Cherry Cinnamon or my favorite, the Almond Blueberry Lemon?
Good luck, remember your next frontier awaits, and, as always …
Be Free!