Thursday, May 31st, 2012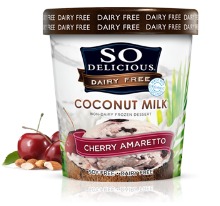 Summer's here and we're all screaming for ice cream! Now thanks to SO Delicious Dairy Free even those with dairy allergies or intolerances can enjoy a nice, cool, refreshing treat on those hot summer days.
Say Hello to SO Delicious Dairy Free Coconut Milk Ice Cream!
I love that these frozen treats are creamy and come in tons of fantastic gluten-free flavors. Some of my favorites are: Cherry Amaretto, Chocolate Peanut Butter Swirl, Coconut Almond Chip, Mint Chip and Mocha Almond Fudge. And for those of you that can't have coconut, SO Delicious also makes a line of frozen desserts made with a soy base too!
And for those looking for additional allergy and nutritional info, the SO Delicious website has a comprehensive chart detailing their products allergens. I love it when companies supply this info, don't you?
Another way you can make this product extra-special is by serving it atop a Goldbaum's Gluten-Free Ice Cream Cone. Dairy-Free and Gluten-Free joy!
Dairy-free, gluten-free and SO delicious are all the reasons why this week's Friday Favorite goes to SO Delicious Dairy Free Coconut Milk Ice Cream! Good lickins' and congratulations!
Want to buy? Use this store searcher to find a store that sells SO Delicious  Frozen Desserts near you… or get your Goldbaum Ice Cream Cones (Gluten, Dairy, Egg, Nut, Peanut and Soy Free!) on Amazon.com:
Goldbaum's Gluten Free Ice Cream Cone Cups 12 cones/1.76 oz. – case of 4

Goldbaums Ice Cream Cones – Gluten Free Sugar Cone, 4.7-Ounce (Pack of 4)