Thursday, May 3rd, 2012
This week's Friday Favorite on BeFreeForMe.com is awarded to Golden Valley Organic Beef Jerky.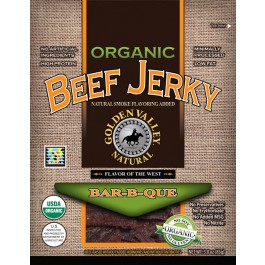 If you're a beef jerky fan you know that most beef jerky contains gluten. There seems to be gluten on every single ingredient label you check. BUT – Golden Valley Organic Beef Jerky is gluten-free! Celebrate gluten-free jerky fans!
Not only is this jerky gluten-free – it also contains no MSG, preservatives, nitrates or artificial ingredients. Another added bonus is that they are made with organic beef, which is fed organic feed, and raised without added hormones.
All good stuff.
I am a huge fan of Golden Valley Organic Beef Jerky. I've chatted about Golden Valley Organic products in the past, but never pointed out the fabulous gluten-free beef jerky varieties that Golden Valley has. If you like a basic jerky, the Original is for you, but if you're looking for a spice, go with the Black Pepper. If a punch of flavor is your thing grab the Teriyaki or the BBQ. And last if you like things sweet, but also a tad spicy…  the Sweet & Spicy variety is a sure-bet.
Please note that not all the products Golden Valley make are gluten-free, so as always, check the labels carefully and look for the gluten-free notation. on the label.

NOTE: The Golden Valley Beef Jerky is available to purchase on Amazon with Super-Saver shipping! Here are the links:
Golden Valley Natural Organic Beef Jerky Teriyaki — 3 oz

Golden Valley Natural Organic Beef Jerky Bar-B-Que — 3 oz

Golden Valley Natural Organic Beef Jerky Original — 3 oz

Golden Valley Natural Organic Beef Jerky Sweet 'n Spicy — 3 oz

Golden Valley Natural Organic Beef Jerky Black Pepper — 3 oz