Thursday, May 28th, 2009
Basically, I don't know what I would do without it. I love the stuff. San-J Wheat Free Soy Sauce.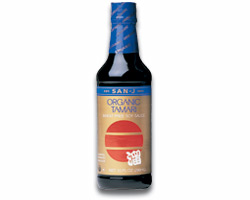 I actually brought a bottle with me to my local Chinese Restaurant when I met a few girlfriends for dinner a few weeks ago. They also gave it a try and decided it tasted just as good as the "regular" soy sauce. So it also has the non-GF seal of approval.
My San-J, as I lovingly call it, turned my steamed broccoli, chicken and white rice into a flavorful Chinese meal, not just a bland, tasteless dish that made me yearn for PuPu platters and potstickers. Before San-J I thought that I would never be able to truly enjoy Chinese food again.
At the end of the evening, I opened my fortune cookie (for the fortune only, not the cookie!) and my fortune was, "Believe it can be done."
And yes –  Thanks to San-J it can.