Thursday, February 9th, 2012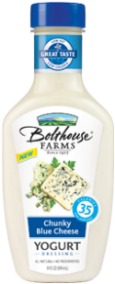 Thank you Bolthouse Farms for making my resolution of eating a salad, every day, for lunch so much easier… and also for tossing in tastiness too.
Because of Bolthouse Farms, I love lunch. I look forward to my salads.
And if you haven't seen Bolthouse Farms Yogurt Dressings before you are probably looking in the wrong place. These dressings are found in the produce department. Yup – right above the lettuce, fresh veggies and other salad fixin's.
All are delicious. All are gluten-free.
The Bolthouse Farms Yogurt Dressings are all between 35 and 45 calories per serving, so they are perfect for pouring, dipping and dressing. They come in a few varieties too: Chunky Blue Cheese, Classic Ranch, Zesty French, Thousand Island, Caesar Parmigiano, Honey Mustard and Salsa Ranch.
So on behalf of my salad, this week's BeFreeforMe's Friday favorite goes to Bolthouse Farms Yogurt Dressings. Congrats!