Sunday, February 28th, 2010
It looks as if America's oldest flour company is learning some new tricks: Gluten-free flours and mixes.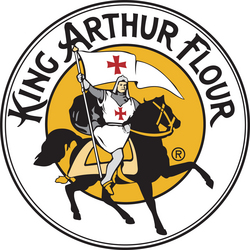 King Arthur Flour, founded more than 200 years ago and known for their premium baking flours and mixes will introduce their new gluten-free products today, March 1, 2010 on the King Arthur website and soon in supermarkets across the country.
The King Arthur gluten-free line consists of: Gluten-free Multi-Purpose Flour (I can't wait to try it in some of my favorite recipes!), along with convenient mixes for gluten-free bread, pizza crust, cookies, brownies, chocolate cake, muffins, and pancakes. 
Best yet, all of their gluten-free products will be made in a dedicated allergen-free facility and guaranteed to be free of the top eight allergens. Their products are also third-party certified by the Gluten Free Certification Organization, whose standards are twice as stringent as those set by the FDA.
I am really excited about King Arthur launching these new gluten-free products since their company is known for consistency in products, educating consumers in using their baking products and for being a resource of useful information, including recipes.
I'm looking forward to King Arthur, a classic in baking legend, teaching me some new baking tricks too!