Wednesday, October 15th, 2014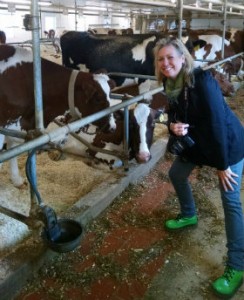 It's that time of year when the weather is perfect here in Boston. The air's crisp, the sun's warmth is worthy of extended smiles towards the sky and the colorful leaves provide the backdrop of color reminiscent of a photo in any old-time New Englander's October calendar page.
But it comes as no surprise that sometimes in the hustle and bustle of daily life I often don't stop, take the time for that deep breath of refreshing air, close my eyes, look-up and give an all-out ear-to-ear smile.
But this past week I was given that chance. I was able to break-out of my stuffy office and experience firsthand how a small local dairy farm, Hornstra Dairy Farm in Norwell, Massachusetts, contributes to New England's economy, health, environment and community. Thanks to the New England Dairy Promotion Board, myself and several other Boston area bloggers & foodies (Kara from The Foodie Dietician; Julia from Juggling with Julia; Liz from Meal Makeover Moms; Jen from Edible Boston; Julia from The Department of Agriculture for the State of Massachusetts) were invited to tour Hornstra Dairy Farm, named Massachusetts 2013 Dairy Farm of the Year. Not only was it a welcoming break from the 9-to-5 in the office, but it was an inspirational and enlightening way to learn first-hand about local dairy farming, and most importantly why local dairy farming is an integral part of our lives.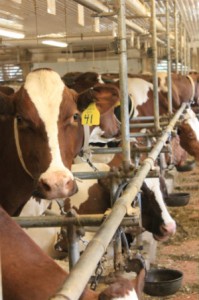 The tour was guided by John Hornstra, proprietor of this farm that has been a family-owned and operated business for four generations. John walked us through the start (milking) to the finish of the dairy production at his farm. (Our end of the tour treat? An impromptu morning ice cream party… *cough* *cough* … a little ice cream in the morning never hurt anyone, right?)
Although I learned that each cow is named (Yes, I met a few new friends named Meredith, Kathy, and J. Low) and milked, loved and treated humanely 365 days a year and the farms milk processing, pasteurization process and final products are top-notch (the Vat Pasteurization method is used during the processing of their milk), the biggest impression that John had on me during the tour was the Hornstra Dairy Farm's legacy to commitment, quality and the love of New England's families, environment and economy.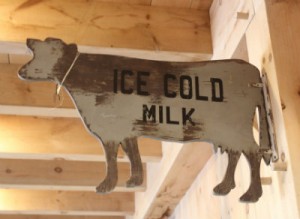 And although I don't consider myself a city-slicker, after my visit to Hornstra Dairy Farm I now truly appreciate local dairy farmers, the beauty of their open spaces, the local culture, and everything that my beloved New England dairy farmers offers to make my family's lives, health and well-being, well … just a better place to live. And that's another reason for us all to give an all-out ear-to-ear smile.
Looking for some delicious gluten-free recipes using fresh dairy products? Check out these recipes from myself and fellow bloggers:
Tomato Salsa with Sharp Cheddar & Black Olive Crostini from BeFreeForMe.com
Pear & Maple Yogurt Cups from Must Be The Milk
Salted Caramel Peanut Butter Apple Dip from Kara at the Foodie Dietician
Peach Berry Milkshakes from Julia at Juggling with Julia
Sunday Morning Frittata from Edible Boston
Autumn Apple Quinoa Salad from Liz at Meal Makeover Moms