Tuesday, April 26th, 2011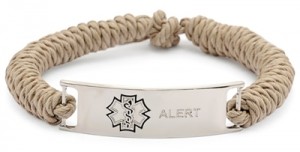 I wear one. I wear it all the time. I never take it off. I'd never leave home without it.
What am I talking about? My medical alert bracelet.
I wear my medical alert bracelet because I am allergic to penicillin and sulfur drugs. My allergy is so bad that I become anaphylactic if I take even a small amount of either of these two drugs. I learned my lesson the hard way after having the scare of my life, and a trip to the emergency room that I, or my family, will never forget.
My anaphylactic reaction to these drugs is the same reactions many have that are allergic to various food allergies; nut allergies, peanut allergies, shellfish allergies – plus more. There are also other conditions where people should wear medical alert jewelry including: autism, diabetes, dementia, taking certain medicines like Coumadin or Warfarin, heart disease, arrhythmias, pacemakers, asthma, or children with special needs.
That's why it astonishes me that so many adults and children with food allergies don't wear medical alert bracelets.
Medical alert bracelets "talk" when you or your child can't. "The mistakes that we see when there are reactions in school often have to do with dropping the guard because of lack of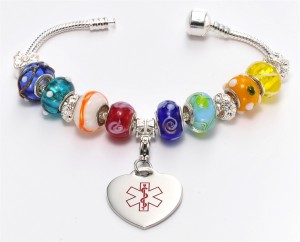 education…" said Dr. Scott Sicherer, a professor at pediatrics at Jaffe Food Allergy Institute at Mount Sinai Medical Center. "[Have] the child wear medical identification jewelry to keep that in mind."
My thoughts? If you would tell an emergency room doctor about any condition you or your child have – a medical alert bracelet should be worn with that info on it.
Hope Paige Designs is a company that makes medical alert jewelry and medical identification bracelets that aren't just functional, but fashionable too. After checking out the Hope Paige website you'll see that medical alert bracelets have come a long, long way. Say goodbye to the ugly, super huge, cheapo, old-man looking, "one-style and size-fits-all" medical alert bracelets that have been worn for years and touted on flyers stuffed in a "take one" holder on every pharmacy counter in the country.
Hello Hope Paige! The company that makes medical alert bracelets fashionable and fun.
Hope Paige has medical alert bracelets that will appeal to kids, tweens, teens, 20-somethings, Moms, business-people and everyone in-between! I like the fact that Hope Paige designs "gets it". No one wants to wear a gawd-awful looking piece of jewelry that draws unneeded attention to their condition.
This is especially true with children. It's hard enough for kids having food allergies, diabetes, or other conditions that may make them feel different. Throwing a clunky medical bracelet on top of that doesn't make things easier… but Hope Paige changes that. Their focus is on fashion and finding a way to add function without sacrificing the "hipness" and fashion of the bracelet. Hope Paige Designs provide a medical alert bracelet that's stylish for kids and doesn't even look medical –  so that kid's can be more comfortable in their own skin.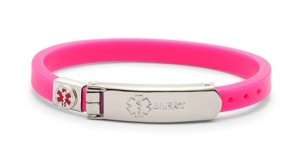 Some of the most popular (and my favorite!) medical alert bracelets sold by Hope Paige include the thin and thick black rubber bands, thin pink rubber bracelets, Pandora style bracelets, rope knot bracelets and stainless steel heart link bracelet. Hope Paige Designs also offers free engraving with every bracelet ordered.
The next two (2) weeks WIN-It-Wednesday's on BeFreeForMe.com is sponsored by Hope Paige Designs. They are offering two (Yes…2!) LUCKY BeFreeForMe members a chance to win the medical alert bracelet of your choice! One winner will be selected from all entries received before Tuesday, May 3, 2011 at 11:59PM EST. The second winner will be selected between all entries received between Wednesday, May 4 and Tuesday, May 10, 2011 at 11:59PM EST.
How can you win? Easy! Check out the Hope Paige Design's website, reply to this blog and tell us what bracelet you would want to win!
Good luck, be safe…yet fashionable… and as always,
Be Free!