Thursday, September 26th, 2013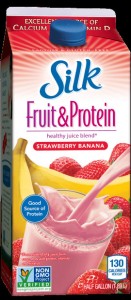 If you're looking for a quick breakfast on-the-run check out Silk's new Fruit & Protein drinks.
A juicy-creamy-fruity blend of goodness, these juice & soy based drinks are a great source of calcium and Vitamin D, contain a full day's supply of Vitamin C and 5 grams of protein.
They are also certified non-GMO, are dairy-free, lactose-free, casein-free, gluten-free, egg-free, and free of MSG.
They come in three flavors: Mixed Berry, Strawberry Banana and Mango Peach. My favorite is the Strawberry Banana and I like to blend it up for a smoothie and frothy breakfast drink. And for an added fruit bonus, I toss in a handful of sliced bananas and strawberries.
This week's Friday Favorite goes to Silk Fruit & Protein Healthy Juice Blends because they make never having to miss breakfast again easy! Just grab yourself a glass… and you're good to go! Congratulations!