Tuesday, September 3rd, 2013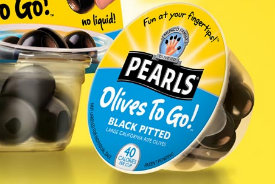 This Win-It-Wednesday on BeFreeForMe.com  is sponsored by the Musco Family Olive Company and features the newest addition to their family of products: Pearls Olives To Go.
Just in time for back-to-school, these yummy, convenient & gluten-free 4-packs of single-serve olives are a great toss-in addition to lunch boxing, snack time, and before sporting activities.
Each of the single serve cups are full of large California black pitted olives. They are only 40 calories per pack, have an easy peel lid and contain no liquid (Yes… NO liquid!). They are also gluten-free and GMO-Free.
Convenience at your fingertips!
These single-serve packs are also great for the adults too. I love snacking on these mid-day and also while driving between meetings (yup… no water = no spilling!). They are also great as a "side" with my gluten-free sandwiches… who needs fattening potato chips when you can have a side of olives instead!
Healthy yumminess at your fingertips!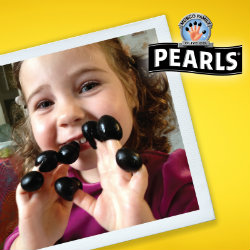 And it's no wonder that Pearls Olives tagline is: "Fun at your fingertips!" Kids (and let's face it… adults like me too!) can help but be tempted to have "olive fingers" while snacking on these little orbs of goodness. That is why the Musco Family decided to have a contest to discover the best "Olive Fingers" photo. The contest is featured on the Pearls Olive's Facebook page, so make sure you check out their page for more details!
And lucky for all of us, Pearls Olives has also graciously offered six (yes, 6!) lucky BeFreeForMe olive lovers a chance to win a package of their Olives To Go for this Win-It-Wednesday! Three (3) winner will be randomly selected from all comments / entries received before Tuesday, September 10, 2013 at 11:59 PM (EST), and three (3) more winners will be selected from all comments / entries received between Wednesday, September 11, 2013 at 12:00 AM (EST) and Tuesday, September 17, 2013 at 11:59 PM (EST).
How can you win?
Easy!
Reply to this blog and tell us how you (or your family) has fun at your fingertips… is it riding bikes, hiking, having a movie night, playing charades? (Me? A couple of my girlfriends along with gluten-free Chinese take-out equals instant fun for me!)
Good luck, remember to always keep fun at your fingertips and make sure you grasp ahold of it as much as possible! … and as always…
Be Free!
Follow Pearl Olives on Facebook to for more contests, news, updates, and special offers!