Tuesday, September 29th, 2009

Some things in life are meant to be shared… A big bucket of popcorn, a chocolate bar, a batch of cookies, or a handful of brightly colored, sweet jelly beans.
Yup – these are the sweet things in life. The things that are meant to be divvied up amongst family & friends.
That's why I'm so excited to share the news about Divvies. They make popcorn, cookies, chocolate bars, novelty candies and baking chips – all Nut, Egg and Dairy Free!
All of Divvies products are just screaming out to be shared! With a smile on my face, I enjoyed all the gluten-free products that Divvies sent my way – and then I got second smile after seeing the beams on the faces with those I shared with.  Sharing with Divvies gives the old adage, "One for you,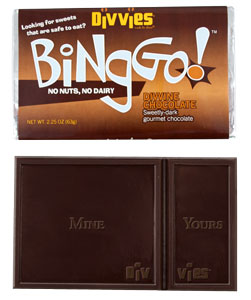 two for me…" a whole new meaning.
I love the 3-gallon and 5-gallon popcorn bins – they are just the right size to feed a crowd, like a bunch of teenagers at a sleep-over, or a birthday party for a troop of little ones. The popcorn bins also come complete with scoop (no worries about dirty little fingers!) and individual festive bags for everyone that is sharing in on the treat.
Another one of my favorites from Divvies are the fun chocolates. Anyone that knows me, especially my sisters, recognize that I am a stickler when it comes to sharing my chocolate bars. That's why the portion breaks on the Divvie's bars made me smile with chocolate-glee! Two-thirds for me… One-third for you!
With Divvies the allergen-free everywhere can sit back and enjoy worry-free. All of Divvies cookies, popcorn and cupcakes (not including sprinkles and frosting) are made in the company's-own dedicated facility where no peanuts, tree nuts, milk or eggs enter the doors. And Divvies uses ingredients that are certified allergen-free. Divvies candies, frosting, and sprinkles are certified by their manufacturers to be peanut-, tree nut-, milk-, egg-free, and sesame-free and are packaged in Divvies Bakery. Divvies conducts routine testing to minimize the risk of any cross-contamination in their certified allergen-free ingredients.
Items that are gluten-free include the chocolate bars, chocolate baking chips, novelty candies and two types of the popcorn (Kettle Corn & Carmel). Please note however that the Divvies products are not manufactured in a designated gluten-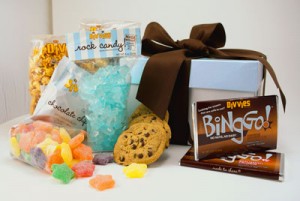 free facility.
Divvies is sponsoring this week's BeFreeForMe WIN-IT-Wednesday. They are offering prizes to TWO (yes…2!) LUCKY WINNERS! The first prize is a S'morg gift box* that is all wrapped-up pretty with a big bow and jammed packed with chocolate caramel popcorn, caramel popcorn, a Divvine Chocolate BingGo bar, a peppermint & chocolate BingGo bar, super stars gummy candies, blue rock candy, and five two-packs of chocolate chip cookies. The second prize is a 3-gallon tub of the popcorn of the winner's choice (Kettle Corn, Carmel or Chocolate Carmel)!
How can you WIN!
Easy!
Reply to this blog and tell us how you share every day in your life. (Me? I share my thoughts on this blog, my smiles to strangers on my daily walks, and hugs to the ones I love). All entries must be received by 12:00 midnight EST on Sunday, October 4, 2009.
Good luck, share daily… and as always…
Be Free!
Kathleen
* Please note that all items in this prize package are not gluten-free! So, if you win, and are on a gluten-free diet, you'll have to divvie it up between all of your food allergic buds!