WIN-It-Wednesday: NuGo Free Bars!
This week we are revisiting one of the most popular WIN-It-Wednesday's yet!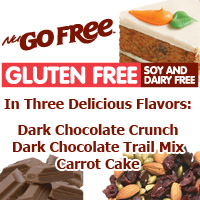 The reason NuGO Free bars are so popular is that they are gluten free, soy free and dairy free – yet still taste like a real treat!
We all know that bars are a stand-by snack for those on a gluten-free diet, or with special dietary requirements or allergens, and NuGo Free's certified gluten free bars are one of my favorites.
With tons of fiber (5 grams per bar), protein (10 grams per bar) and healthy ingredients, NuGo Free bars are delicious & nourishing. But what it truly amazing is that the NuGo Bars are ONLY 3 points for those watching their weight!
My favorite flavors are the Carrot Cake which is perfect for a breakfast on the run; Dark Chocolate Trail Mix, a perfect afternoon snack; and Dark Chocolate Crunch, just as yummy as any dessert.
NuGO Free bars are also 100% natural, vegan, OU Pareve plus layered with luscious, REAL dark chocolate (Say YUM!) or drizzled with a touch of sweet icing. 
NuGo wants to give away a mixed box (12 bars) of their NuGo Free bars to a LUCKY BeFreeForMe MEMBER! (Note: You must be a BeFreeForMe member to win!)
How can you win?
Easy!
Tell us what makes you feel… FREE! (What makes me feel free? Being able to laugh at myself for some of the silly things I admittedly do!)
Good Luck, Be Silly once in awhile,  and as always…
Be Free!
Kathleen
Tags: NuGo Bars, NuGo Free Bars, Win-It-Wednesday