Friday Favorite: Pamela's Baking & Pancake Mix
Anything quick and easy, plus tasty, is good for me! That's why this week's Friday Favorite is Pamela's Products Baking & Pancake Mix.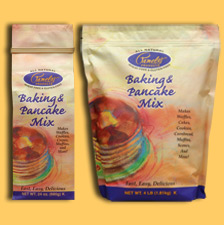 A bag of this mix should be a staple in any gluten-free cabinet.
The absolute beauty of this gluten-free mix is that it can be made into anything… cookies, crepes, waffles, pancakes, muffins, breads and cakes… and more.
In fact this mix is so versatile it kinda reminds me of the Bisquick for the gluten-free set! This mix really can make it all – all the while making you look like the Queen of Gluten-Free Baking.
My favorite use of Pamela's Baking & Pancake Mix? The pancake recipe, which is on the bag of the mix, as well as Pamela's website.  
Why do I love these pancakes so much that I made them this week's Friday Favorite? Well, they are delicious, convenient and practical! On Sunday Mornings I make up a batch of the batter and cook-up a dozen or so silver-dollar pancakes. I then place 2 to 3 of the cooked pancakes in individual freezer bags and toss them in the freezer. During the crazy weekday mornings, I grab a single-serve bag out of the freezer, pop the pancakes into the toaster, and enjoy… all with no mixing, fussing or pans to wash!
Perfect! =)
Tags: Friday Favorite, Pamela's Products, Pamela's Products Baking & Panckae Mix