Thursday, April 10th, 2014
If you're looking for a good old fashioned cookie you have to check out Pamela's Product's Figgies and Jammies.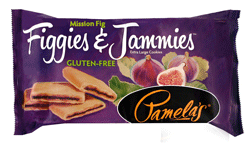 Fashioned after the old standby cookie – the Fig Newton – this gluten-free version will knock your socks off. But with one difference… this cookie is far, far better. I love that the "cookie" portion of the Figgies & Jammies is soft, chewy and sweet. One bite and you'll know what I am talking about!
I also am loving the size of this cookie. An extra-large version of a traditional fig cookie, you'll need only one to satisfy that sweet tooth.
Figgies & Jammies (I just love the name… so cute!) come in four flavors: The traditional Mission Fig, Blueberry & Fig, Strawberry & Fig, and my favorite, Raspberry & Fig.
Super-sized cookie goodness, which brings you back to days long ago, are the reasons why this week's Friday Favorite is awarded to Pamela's Figgies & Jammies. Congratulations!