Friday, December 27th, 2013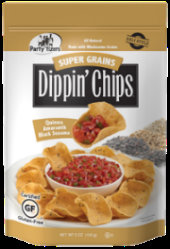 I found a great new certified gluten-free chip this week that will be perfect for New Year's Eve appetizers… the Dippin' Chip by Party 'tizers.
These chips are sturdy like a cracker, yet crunchy like a chip… so they are the perfect "vehicle" to hold any topping (think provolone wrapped prosciutto and pepperoncini; or goat cheese mozarella wrapped in basil with roasted red peppers) or for a dip (like hummus, salsa or guacamole).  These must-try snacking treats are perfect for snacking, munching and dipping.
The Dippin' Chip flavors are awesome too: Veggie (the perfect combination of kale, spinach and carrots), Three Bean (made with black beans, red beans and adzuki beans) or my favorite, SuperGrains (A blend of Quinoa, Amaranth and Black Sesame).
These certified gluten-free chips are also cholesterol free; contain no tran fats, MSG, artificial flavors, colors or preservatives; and are all natural & vegan.
All these dippin' good reasons are why this week's  Friday Favorite is awarded to Party 'tizers Dippin' Chips. Congratulations!