Tuesday, December 17th, 2013
The boys were out plowing again this weekend, and I wanted to make them a breakfast that was extra special, really sweet and totally unexpected when they arrived home, cold and hungry,  after being out  working for most of the night.
So into the cupboard & fridge I went and pulled out all the ingredients that are the most comforting, warm and heartening to me: Cinnamon, vanilla extract, maple syrup, cream cheese, butter and brown sugar. Then, without a doubt, I decided that the perfect breakfast would be Cinnamon-Raisin Sticky Bun French Toast.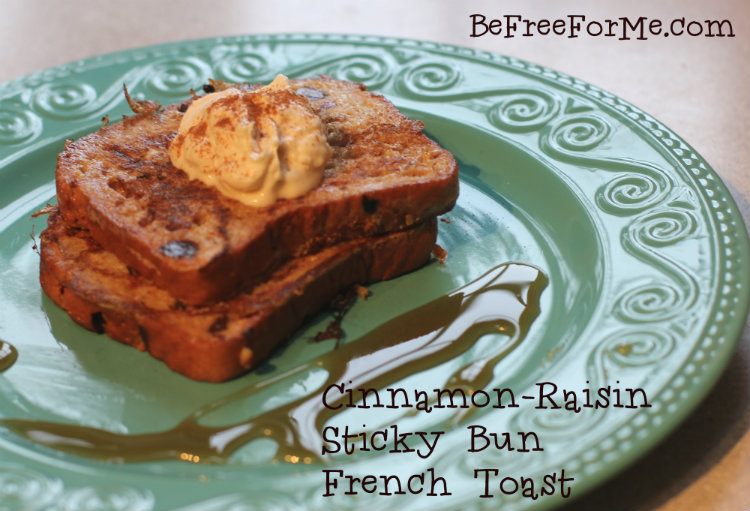 Made out of the soft and cinnamon-y Udi's Cinnamon-Raisin Bread, this French Toast adds a sweet, yet tangy, twist on an original French Toast recipe. The brown sugar in the bread's egg wash makes for a caramelized edged finish on the perfectly toasted slices, while the cream cheese infused butter dollop creates a hint of tang that offsets any extra sweetness.
This recipe is delicious and a sure hit for any day…  No snow storm required.
———————–
Gluten-Free Cinnamon-Raisin Sticky Bun French Toast
Ingredients for the French Toast:
6-8 slices of Udi's Cinnamon Raisin French Toast
4 eggs
¼ cup milk
¼ teaspoon ground cinnamon
1 tablespoon of Brownulated (pourable) brown sugar (I use Domino's)
Butter, for skillet
Maple syrup – I use real maple syrup from Vermont (for drizzle)
Ingredients for the Cream Cheese Infused Butter:
2-ounces Cream Cheese
1½ tablespoon butter
1 teaspoon vanilla extract
2 tablespoons milk
Optional:
Additional Cinnamon for sprinkling on top of dollop
Crushed Pecans, for topping
Directions:
In a medium bowl whisk together the eggs, milk, cinnamon and brown sugar. Melt a pad of butter in a well heated frypan. Dip the Cinnamon-Raisin bread into the egg mixture until well-coated on both sides, and place in the skillet for about 1-2 minutes each side until browned and warmed through.
To make the Cream Cheese Infused Butter, beat the cream cheese and the butter together in a small bowl. Add in the vanilla and milk, and continue to beat until well blended. (Note: you can make this ahead of time, just keep it in the refrigerator until ready to use).
Serve the French Toast on a plate with a drizzle of maple syrup and dollop of the Cream Cheese Infused Butter. Top with a sprinkle of cinnamon, or crushed pecans, if desired.
Dig in. Enjoy.
Serves 3-4.