Thursday, April 30th, 2015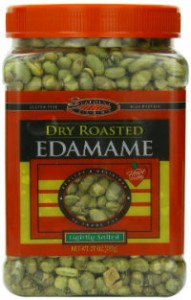 Seapoint Farms Dry Roasted Edamame is a crunchy, tasty and healthy way to add more protein in your diet… all while enjoying a perfect snack.
These all-natural dry roasted edamame contain only two ingredients – soybeans and sea salt.
And not only are they packed with protein, they also contain all 8 essential amino acids and add no cholesterol or trans-fats to your diet. Plus all of the Seapoint Farms dry roasted and frozen products are gluten-free.
These super snacks are also versatile, since they make a great addition atop your salad or added to your favorite homemade trail mix. Make sure to check out all the recipe ideas on the Seapoint Farms website.
All these reasons are why Seapoint Farms Dry Roasted Edamame is this week's Friday Favorite on BeFreeForMe.com. Congratulations!
Want to buy now? Check out this link on Amazon.com