Win-It-Wednesday: Raw Food Central Snacks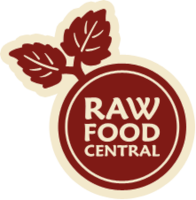 If you love good snacking AND healthy good-for-you foods this Win-It-Wednesday is for you!
Raw Food Central makes Kale Chips, Flax Crackers, Onion Rings and a Snack Mix that are all full of crunchy goodness that make them perfect any time of day.
To start off, I'd like to chat a bit about the Raw Food Central company. The mission of Raw Food Central is to honor and serve others as a way to energize, inspire, and build people. The products are made by a team of super-cool people, who love their company and take pride in offering only the best products, made with only the best ingredients, to their customers. The result? Everyone is happy, healthy and empowered. What's not to love about that? =)
All of Raw Food Central products are raw… never fried, and never baked. They all contain simple, yet irresistible ingredients. Ingredients that keep your taste buds tantalized. And if you want to find out more about eating raw foods, check out this link on the Raw Food Central website. The founder of the company, Curt Griffing, as been eating raw for over 30+ years and has so much to share!
All the products are also USDA certified organic, certified vegan, certified gluten-free, kosher, certified vegan and are all non-GMO project verified.
The products that Raw Food Central creates are incredible. Their signature item, their Kale Chips are crunchy and light. One bite will keep you crunching away, and show you why kale is all the rage. The Onion Rings, my favorite, are flavorful and crunchy… perfect for topping a salad; the Flax Crackers, are packed with flax, which is full of protein, and a perfect companion for any dip or spread. And last, the Snack Mix is a sunshiny garden in a bag! Packed with their infamous kale chips, and tossed with freeze dried corn, peas, cashews, sunflower seeds and raisins. Delicious!
Honestly good products, made by an honestly great company, are the reasons why I am so thrilled that this Win-It-Wednesday is being sponsored by Raw Foods Central!
A total of two (yes, 2!) BeFreeForMe.com members will be randomly selected to win a mixed case (total of 12 bags) of all four products (3 bags per product).  One (1) winner will be randomly selected from the entries received before Tuesday, April 14, 2015 at 11:59 PM EST, and one (1) more winner will be randomly selected to win from the entries received between Wednesday, April 15 and Tuesday, April 21, 2015 at 11:59PM. SO – make sure you enter two times to win!
How can you win?
Easy!
Reply to this blog and tell us what Raw Food Central product looks the best to you!
Good luck, remember to keep things simple, keep things irresistible … and, as always …
Be Free!
PS: Want to learn more? Check out Raw Food Central's Facebook and Twitter pages!
Tags: gluten free kale chips, Raw Food Central, Raw gluten-free snacks, raw snacks, Win-It-Wednesday