Thursday, April 28th, 2011
I love quick and easy, hand-held, grab-on-the-go mini-meals. While rushing from here to there, these types of meals fit best into my lifestyle.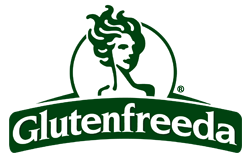 My "bars" (as I fondly like to call them) are great, but sometimes I feel like more. Something that is more like a meal… rather than a snack.
That is why I was thrilled to discover GlutenFreeda's Gluten-free Pizza Wraps. These portable, no-mess wraps are stuffed with all-time favorite pizza toppings; including, Three Cheese, Italian Sausage, and my favorite, Pesto Chicken.
With less than 240 calories each, these wraps are even less calories than some of favorite bars and supply more protein (14-15 grams of protein per wrap).
Because of their easy prep (easily microwaved) and eat in-hand convenience, these new GlutenFreeda Pizza Wraps take this week's BeFreeForMe Friday Favorite honor!