Friday Favorite: Alouette Light Spreadable Cheese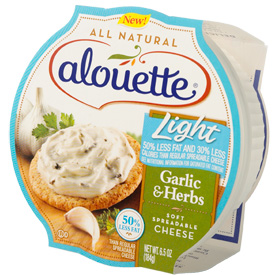 This week's Friday Favorite is all about spreading gluten-free love. Alouette style.
A longtime favorite, I recently discovered that Alouette Spreadable Cheese not only come in a "light" version (50 calories / 4 g fat per 2 tablespoon serving) but it is also gluten-free.
After this discovery, my first thought was to start spreading this gluten-free love!
This spreadable cheese is perfect on gluten-free crackers, celery and carrot sticks, baked potatoes, and my favorite, used as a spread on a smoked turkey and fresh veggie sandwich, as a replacement for fattening (and boooorrring!) mayonnaise.
The Alouette Light Spreadable Cheese comes in two flavors: Cucumber Dill or Garlic & Herb, (the Garlic & Herb is the one that I LOVE as a sandwich spread).
Great for dipping, as a sandwich spread or even by the spoonful… we think you'll love this weeks Friday Favorite honoree on BeFreeForMe.com!
Tags: Alouette Cheese gluten free, Alouette Spreadbale Cheese, Friday Favorites