Tuesday, June 29th, 2010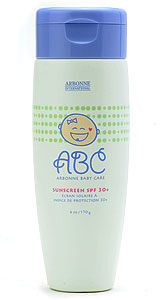 It's Official! The Lazy, Hazy, Crazy Days of summer are officially here!
Many of us will be spending the Fourth of July Holiday outside while we enjoy barbeques, picnics, boating, swimming and hanging by the beach and poolside.
While packing our bags for these excursions, we make sure we pack enough gluten and allergen free snacks and food for the whole family. But what about your sunscreen and lip balms? Are they gluten and allergen-free too?
Since the start of the summer, I have been inundated with BeFreeForMe members asking about gluten-free lip balms, sunscreens and lipsticks. My solution? Arbonne products.
All of Arbonne skincare products are free of gluten (with the exception of the vitamins and hormone cream); free of synthetic fragrances; and free of dyes, PABA and mineral oils. They are also pH correct and are botanically based.
But what I love the absolute most about Arbonne is my rep, Krissy.
A number of years ago, Krissy was diagnosed with celiac disease too. She lives a strict gluten-free lifestyle along with her family, many of whom are also celiacs.
It's nice to know that she "gets it" and she understands when you're adamant about getting sunscreens, make-ups and lip balms that are free of gluten! She's also very generous when it comes to getting free samples of products you're interested in trying and she ships my orders direct to my door…. Whenever I need them! (No malls… no stores… no snooty make-up counter girls that have no clue about gluten and allergens!)
Krissy has generously offered to supply these fantastic Arbonne Gluten-free products for the sponsorship of BeFreeForMe's WIN-It-Wednesday's for the next two weeks.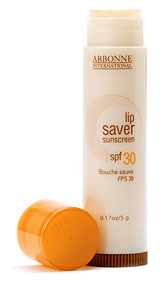 Five (yes 5!) entries will win an Arbonne SPF 30 BefoRE Sun Lip Saver Sunscreen. Plus, one Grand-Prize Winner will win a sunscreen gift set containing an ABC Sunscreen with SPF 30 (made for baby's sensitive skin, but great for us "Big Kids' too!), BefoRE Sun Save Face & Body Sunscreen with SPF 15 (Blended with arnica, rosemary, linden and chamomile, this product which is suitable for all skin types is great alone or under make-up), a BefoRE Sun Damage Control Water Resistant Sunscreen SPF 30 (Helps prevent sunburns even after 40 minutes in the water!), along with a BefoRE Sun Lip Saver Sunscreen.
How can you WIN?
Easy!
Reply to this blog and tell us what fun in the sun (…or the shade!) you have planned for this Holiday weekend or summer (Me? Tons of Cape Cod road trips with my friends Julie and Diane).
Please enter TWO Times (once between June 29 and July 6 and again between July 7 and July 13) to increase your chances of winning!
Good Luck, Remember to always look for the sunny side of things, and… as always…
Be Free!