Tuesday, June 15th, 2010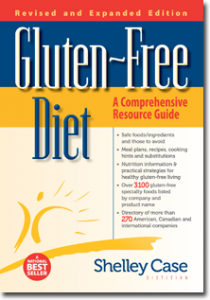 After getting diagnosed with celiac disease I had tons of questions. Some of the questions I "figured out" for myself by searching the internet and reading books, such as the Gluten-Free Diet: A Comprehensive Resource Guide, written by Shelley Case.
But another fantastic way to learn more about the gluten-free diet – from the basics of celiac disease, ways to manage a new diagnosis, ideas for new & fresh menu ideas, or to get the comradely support that we all need to get by on a day-to-day basis – is to share and have conversations with others that live the gluten-free lifestyle.
Tonight riceworks Brown Rice Crisps and GlutenFreeSnacksForMe.com hosted a webinar which was one of those fantastic sharing opportunities. Celiacs across North America where able to share, learn, but most important, discover how other celiacs can be one of the greatest resources of support.
For those of you who are not familiar, a webinar is a discussion conducted via the telephone &/or computer during which previously emailed questions are answered. Easy. Convenient. Informative.
BeFreeForMe is thrilled to sponsoring this webinar series since Shelley's book a "Gluten Free Diet: A Comprehensive Resource Guide" has been my bible since I was diagnosed with celiac disease years ago. Shelley's knowledge about celiac disease, real-life solutions to the obstacles I've faced, and her no-nonsense approach to explaining the ins-and-outs of the gluten-free diet has made her book the go-to with all my gluten-free questions.
And to think we can all have Shelley's (who is also a registered dietician!) one-on-one's attention to answer all of our questions "in person" is so very awesome! If you missed tonight's webinar, or you attended and want more, sign-up for the next two webinars that are coming up . Shelley will be featured in another live webinar next week, on Tuesday, June 22 and Dr. Daniel Leffler, MD, MS, Assistant Professor of Medicine, Harvard Medical School, and Division of Gastroenterology at BIDMC, who has just launched his book Real Life with Celiac Disease will be featured in a live webinar on Tuesday, July 13.
Note: If you missed any of these webinars you can listen to them by logging onto: www.glutenfreesnacksforme.com
Shelley has been generous enough to donate copies of her best selling books, "Gluten Free Diet: A Comprehensive Resource Guide" for the next TWO week's WIN-It-Wednesday giveaways. SIX (Yes 6!) Lucky BeFreeForMe members will win a copy of Shelley's book.
NOTE: This is a two-week long promotion. Three winners will be picked each week, so make sure you enter once each week! All entries must be received by Tuesday, June 22nd for the first week's drawing and all entries must be received by Tuesday, June 29th for the second week's drawing.
How can You WIN?
Easy!
Reply to this blog and tell us if you could ask Shelley Case or Dr. Daniel Leffler ANY question about celiac disease or the gluten-free diet what would your question be?
REMEMBER… replying to this blog DOES NOT register you to the webinars! You must click on the link below to register (and ask your question to Shelley).
Register Me For Shelley Case's or Dr. Daniel Leffler's Webinars!
 
I look forward to "seeing you all" and hearing our questions answered by Shelley & Dr. Leffler during the teleseminars on June 22 and July 13!
Be curious, Ask Questions and, as always…
Be Free!