Friday, July 29th, 2011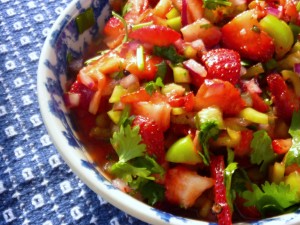 Sometimes you gotta shake things up a bit. Go a little crazy in the kitchen, and create a gluten-free dish that gets you saying "Wow!" in replacement of "Why?" This Sweet & Spicy Strawberry Salsa will show you that crossing the culinary-line set in some kitchens is indeed worth the risk.
This recipe is packed with summer fruits and veggies. I dug in and polished off the bowl scooping it up with gluten-free Sea Salt riceworks, the perfect chip for this salsa,   but it is also delicious as a topping for fresh grilled seafood or chicken.
Take all the baby-steps you need – but take the risk to cross the culinary line in your kitchen, and welcome in the Wonderful World of WOW. Enjoy!
Sweet & Spicy Strawberry Salsa
INGREDIENTS:
About one (1) pint of fresh strawberries (hulled and sliced)
1 medium sized mild Italian pepper (or use a hotter variety – such as a jalapeno, poblano, etc. to kick-up the heat a notch)
3 heaping tablespoons chopped cilantro
3 tablespoons red onions, chopped fine
3 scallions, chopped fine
3 garlic cloves, minced
Juice of one lime
2 teaspoons olive oil
Salt and pepper, to taste (I used sea salt and fresh cracked pepper)
PREPARATION:
Prepare all the ingredients and combine in a large bowl. Cover tightly and refrigerate to chill.
Serve scooped with your favorite gluten-free chips or as a topping over grilled seafood/chicken/tofu.
Serves 6-8