Friday Favorite: GoGo squeeZ Apple Sauce
Looking for a quick squeeze that's gluten & allergen-free – but full of fruity goodness? Look no further than GoGo Squeez Applesauce on the go.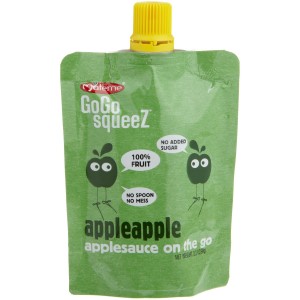 These ingenious little pouches of unsweetened apple sauce are perfect for little tikes (Note: the website states the GoGo squeeZ pack has a small cap that makes it unsuitable for unsupervised children under 36 months. For kids under 3, they recommend that you remove the cap and keep it away from your child) but also are handy-dandy low-cal snacks  for the "big kids" too.
They also come in five yummy flavors: Apple-Apple, Apple-Banana, Apple-Cinnamon, Apple-Strawberry and Apple-Peach.
I threw a couple of these ice cold pouches into my beach cooler last week and was able to enjoy a 100% fruit snack without the fuss of a spoon or mess. All this – plus they are gluten and allergen-free too.
So if you're looking for a little squeeze in your life, check out this week's BeFreeForMe Friday Favorite – GoGo squeeZ applesauce on the go!
Want to buy? Check out this link on Amazon.com and take advantage of FREE Super-Saver Shipping too! GoGo Squeez appleapple, Applesauce on the Go, 3.2-Ounce Pouches (Pack of 48)
Tags: Friday Favorites, GoGo sqeeZ Apple Sauce, Is GoGo squeeZ allergen-free?, Is GoGo SqueeZ gluten-free?