Thursday, May 27th, 2010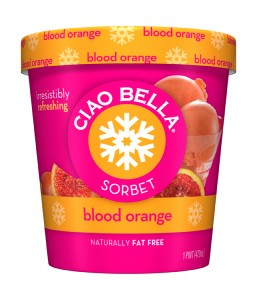 Happy Friday… Happy Memorial Day…  And Happy Summer everyone!
Summer is officially here and it is time to slow-down on the baking and dig into some nice cool refreshing desserts!
One of my new favorite finds is Ciao Bella Gelatos & Sorbets. For those of you who don't know what a gelato is, it is an Italian style ice-cream that contains less butterfat and less air by volume. Most of the Ciao Bella Flavors are gluten-free; and their sorbets are dairy-free and fat-free too. 
The knock your socks off flavors that Ciao Bella has come up with makes it so very difficult to select just one while standing at your grocer's freezer. My solution? Buy two!
Some of the flavors they offer are: Triple Espresso, Chocolate Jalapeno, Roasted Hazelnut, Pistachio and Honey Toasted Pecan. My favorite? Believe it or not… the Tahitian Vanilla. I am usually not a "vanilla" type of gal, but I love the deep intense authentic vanilla essence of this gelato, combined with the specs of real vanilla beans in every cool spoonful.
Ciao Bella also offers sorbets for those looking for a dairy/lactose and gluten free dessert. Some of the distinctive flavors of the sorbets are: Lemon Zest Sorbet, Sicilian Blood Orange (which was featured on Oprah's Favorite Things show!) and Prickly Pear.
I haven't tried all of the Ciao Bella flavors yet, but plan on making this a goal to accomplish this summer! Note: No need to wish me luck.
Fantastic flavors, tastes that tantalize and ingredients that intrigue are all the fabulous reasons why Ciao Bella Gelatos and Sorbets take this weeks honors of BeFreeForMe's Friday Favorite!