Win-It-Wednesday: Green Mountain Gringo Salsa and Tortilla Strips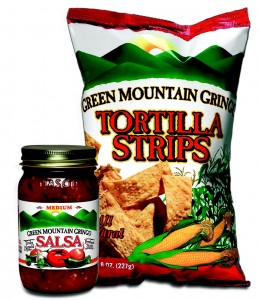 I love my snacks! That's why we decided to continue on with the snacking theme of our WIN-It-Wednesday's and feature another one of my favorite snack options… Green Mountain Gringo Salsa and Strips.
I have been a fan of Green Mountain Gringo products for about 15 years now… years before I was diagnosed with celiac disease, and started on the gluten-free diet. I love Green Mountain Gringo because of the fresh-homemade taste and ingredients that are used in all of their products. Green Mountain Gringo products are also all natural, gluten free, cholesterol free, and contain no GMO's.
When you dive into a jar of Green Mountain Salsa you submerge with fresh, chunks of vegetables – tomatoes, peppers, onions, and chilies. The ingredient list on this salsa reads like a handwritten shopping list: Ripe Tomatoes, Fresh Onions, Fresh Tomatillos, Fresh Jalapeño Peppers, Fresh Pasilla Peppers, Apple Cider Vinegar, Fresh Cilantro, Fresh Parsley, Fresh Garlic, Sea Salt, Spices.
Nothing fake. Nothing artificial. Nothing that makes you scared to eat the whole jar in one sitting!
The salsa comes in the traditional Mild, Medium, and Hot; as well as, Roasted Chili  and Roasted Garlic .
And the Green Mountain Tortilla Strips… they are the perfect vehicle of crunch to transport this fabulous salsa. The Green Mountain Gringo website illustrates these strips as, "…A solid rectangle of pure leverage makes it stable enough for the most aggressive of dippers. Either end features an ergonomic handle allowing even the "power dipper" an enjoyable experience. Sturdy and dependable, they won't break short of your expectations."
My favorite is the Original strip which is made from 100% masa harina corn flour, cooked in all natural canola oil and topped with a pinch of salt. Dipping perfection! The strips also come in Blue Corn and White Corn. Take your pick of the three… they're all delicious.
Pure and natural snacking heaven is why I am so very excited that Green Mountain Gringo Salas and Tortilla Strips are this week's BeFreeForMe's WIN-It-Wednesday sponsor. SIX (Yes 6!) Lucky BeFreeForMe members will win a sample pack containing a jar of each of the Mild, Medium and Hot Salsas, two (2) full size packages of the Original Tortilla Strips, and a bunch of fun Green Mountain Gringo giveaways like t-shirts, magnets and chip clips.
NOTE: This is a two-week long promotion. Three winners will be picked each week, so make sure you enter once each week! All entries must be received by Tuesday, June 1st for the first week's drawing and all entries must be received by Tuesday, June 8th for the second week's drawing.
How can you WIN?
Easy!
Reply to this blog and tell us if you're a mild, medium or hot type of salsa person! (Me? I'm a medium type of gal!) Also, include any creative ways you can think of for using salsa or tortilla strips (Me? I use tortilla strips for "breading" on chicken and fish!)
Good Luck, Enjoy the mild, medium and hot days of your life… and as always,
Be Free!
Tags: Green Mountain Gringo Salsa, Green Mountain Gringo Tortilla Strips, Win-It-Wednesday