Friday Favorite: Candy Tree Gluten-Free Red Licorice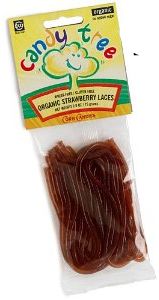 Sometimes it's the little things that bring the most joy to your life… and to me finding Gluten-free red licorice was one of those "life is good" moments.
One of the things I missed the most after going gluten-free was red licorice. The sad day I discovered that my beloved red licorice twists contained gluten I remember thinking, "who in the world would have EVER thought that red licorice contained gluten?"
That is why I was so very excited when the folks over at Candy Tree heard about my licorice demise and straight-away sent to the BeFreeForMe offices a big package jam-packed with Candy Tree Gluten Free Red Licorice twists and ropes!
Gluten-free joy for me!
Plus, the Candy Tree products are 100% organic and contain no added sugar. At zero-grams of fat per serving, and only 143 calories for about 7 twists – this is a gluten-free candy treat that I don't feel guilty about enjoying! The ingredients are simple too: Organic corn syrup, organic rice flour, organic rice starch, organic concentrated fruit juices and organic fruit flavors. Nothing artificial and nothing I can't pronounce. I like that.
Thanks Candy Tree for making red licorice gluten-free for me! Life is indeed good!
Note: Many BeFreeForMe Members have contacted us on how to buy the products featured on the website and blog. Starting today we will offer links to "buy" these products on Amazon.com, if available. Be sure to check out the Super-Saver Shipping offered on orders of $25 and more!
<