Thursday, March 26th, 2015
You're going to love this week's Friday Favorite on BeFreeForMe.com!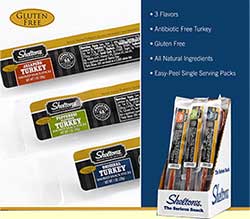 Shelton's Smoke Turkey Snack Sticks are an awesome savory gluten-free snack that is packed with protein and tastes good to beat!
These snack sticks are made from turkeys raised without antibiotics and are vegetarian fed.
Shelton's turkey sticks come in 3 flavors, original, pepperoni and jalapeno. The sticks are individually vacuum packed in easy open packages and are shelf stable.
I love that these snack sticks are portable, are only 45 calories per stick, and taste good – the reasons why this week's Friday Favorite is awarded to Shelton's Gluten-free Smoked Turkey Snack Sticks!
Want to buy now? Check out the links on Amazon.com:
Shelton's Original Smoked Turkey Stick
Shelton's Jalapeno Smoked Turkey Stick