Tuesday, March 10th, 2015

We all know that veggies are good for you, an important part of a well-rounded gluten-free diet, and they taste great too. But what is often hard is getting kids to believe that too.
If you have or know any children that have a hard time embracing veggies in their mealtime, the new children's book "The Rootlets: Super Rootabilities" is for you and your little ones. Launching just in time for National Nutrition Month (March), this book is written by Vicki Marquez, a certified health coach, wellness expert, and plant based chef. Her mission is to get kids to re-think veggies as being a cool, and a tasty addition to meal time – and to break the stigma that healthy living is boring.
And she has accomplished this mission with this book.
The Rootlets are a cast of fun-loving and veggie-loving characters that are the super-heroes of healthy eating. The cast's entertaining names (Brocc, Kaley, Carrotina and Cornelius), the bright and colorful illustrations and the thrilling plot of the story make this book a read-again favorite. This 40 page soft back book is perfect for kids aged 4 to 9.
And lucky for us, Vicki Marquez and her new book "The Rootlets: Super Rootabilities" is sponsoring this Win-It-Wednesday on BeFreeForMe.com!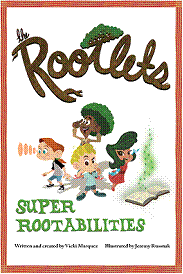 A total of two (yes, 2!) BeFreeForMe.com members will be randomly selected to win a copy of this new children's book.  One (1) winner will be randomly selected from the entries received before Tuesday, March 17, 2015 at 11:59 PM EST, and one (1) more winner will be randomly selected to win from the entries received between Wednesday, March 18 and Tuesday, March 24, 2015 at 11:59PM. SO – make sure you enter two times to win!
How can you win?
Easy!
Reply to this blog and tell us your favorite veggie OR who you would share/give this book too!
Good luck, remember to root for vegetables… and, as always …
Be Free!
PS: Want to learn more? Check out "The Rootlets" Facebook and Twitter pages!