Thursday, September 30th, 2010
Some Gluten-Free cookies can be ho-hum. Tasteless, not worth the calories, and let's face it… a true disappointment.
Funny how one cookie can make a gluten free gal like me smile (or should I say Glow!) from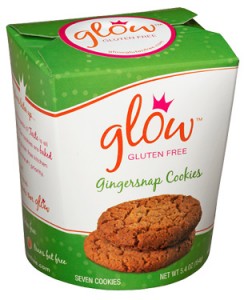 ear-to-ear. The cookie I am speaking of? Glow Gluten Free Ginger Snaps, this week's Friday Favorite on BeFreeForMe.com.
Full of fresh, spicy ginger and with just the right sweetness, this cookie is one of my favorites for dipping into my afternoon tea. Baked with natural and organic ingredients in a certified gluten free bakery, these cookies will never, ever again have you pining for the glutenous and dairy-full cookies you once knew.
I love the Glow Gluten Free website too. Clicking and reading through the pages almost makes you feel… dare I say it… Happy to be gluten-free! Just like their cookies, the website is snappy, fun, fresh and tasty.
Jill, the founder of Glow Gluten Free is a fellow celiac, along with her daughter, Stella. Her diagnosis prompted her to seek out the most perfect and scrumptious gluten-free cookie recipe she could bake-up. That is how Glow Gluten-Free was founded. I love entrepreneurial stories like this.
And with her positive spirit instead of making lemonade out of lemons; Jill made cookies out of garbanzo beans! Gotta love it!
Cheers, Jill! And Congratulations on being chosen as this week's Friday Favorite on BeFreeForMe.com.