Friday Favorite: SO Delicious Coconut Milk Yogurt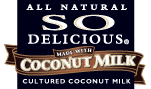 This week's Friday Favorite goes to a product that is SO tasty, yet SO free of the things that many of us can't eat!
SO Delicious Coconut Milk Yogurt is just what the name says… yogurt made out of Coconut Milk. Besides being delicious and certified gluten-free it is also dairy, lactose, soy, cholesterol & Trans fat free. Plus, as an added bonus it is vegan and contains pre- and probiotics – perfect for digestive health.
I tried So Delicious Coconut Milk Yogurt in the vanilla flavor and just loved it. It was creamy, dreamy, and just a perfect substitute for regular yogurt in the morning. But don't let me mislead… this yogurt could also easily become one of my go-to mid-afternoon snacks or decadent desserts. It also comes in Blueberry and Passionate Mango flavors too.  I can't wait to try those next.
The SO Delicious Coconut Milk Yogurt is this week's BeFreeForMe Friday Favorite for being so wonderfully tasty, creamy and dee-licious without all the allergens! Cheers!