Wednesday, December 26th, 2012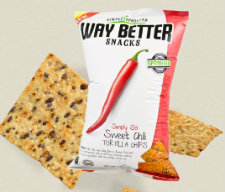 Now that the New Year is suddenly approaching we're all putting on our thinking caps to decide what this year's New Year's Resolutions will be.
And, if you're like most of us, one of your resolutions will probably involve eating better, including making better choices when it comes to snacking.
This is why it is so very fitting that the sponsor of this Win-It-Wednesday contest on BeFreeForMe.com is Way Better Snacks.
Way Better Snacks are perfect for dipping, snacking and even using as a breading for chicken and fish. They are also perfect for making that crunchy topping on gluten-free mac and cheese. My favorite flavor is the Simply So Sweet Chili, but other yummy flavors include Simply Sunny Multigrain, Simply Unbeatable Blues,  No-Salt Naked Blues, Simply So Sweet Potato, and Simply Beyond Black Bean.
Unlike many others, Way Better chips contain the simplest of ingredients – ingredients like chia seeds, flax seeds, quinoa, broccoli seeds and daikon radish seeds – many of which are sprouted, which means they provided increased vitamins, minerals and antioxidants.
Way Better chips are also certified gluten-free, all natural, vegan and are low sodium. They also are an excellent source of fiber and whole grains (each serving packs at least 17 grams of whole grains!).
A total of four (4) BeFreeForMe members will be selected to win a prize-pack of a mixed case of 24 single-serve Way Better Chips. Two winners will be randomly selected from the entries received before Tuesday, January 1, 2013 at 11:59 PM EST, and two more winners will be randomly selected to win from the entries received between Wednesday, January 2 and Tuesday, January 8, 2013 at 11:59PM. SO – make sure you enter to win two times!

How can you WIN?
EASY!
Reply to this blog and tell me what you are going to do in 2013 to make it Way Better than any other year in the past! (Me? I am going to remember to simplify as much as I can in my life … simple, right?!)
Good luck! I hope that 2013 is full of happiness and love…  And as always…
Be Free! =)
NOTE: Get in on the fun and follow Way Better Snack's on Facebook too!