WIN-to-Wednesday: Little Bay Baking Mixes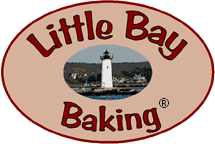 Fall is here. Leaves are falling. Soft blankets are being tossed onto beds, and comforting fragrances such as apples, spices, cinnamon and pumpkin are wafting through households everywhere.
Fall is just a great time to enjoy your family, kitchens warmed by goods in the oven, and the joy of baking your favorite gluten-free goodies. But to be honest, I don't have the time to bake all of my gluten-free goodies from scratch.
This is when I reach for Little Bay Baking products. I like the Little Bay Baking mixes since all the gluten-free flours are already combined, and all you need to do is add a few ingredients to make the moistest, sweet bread, cakes and cookies …and Whoopie Pies!  No fuss, no mess… and no need to mix 5 or 6 types of gluten-free flours. Plus, all of the Little Bay Baking products, when made according to the package directions, are free of casein and lactose.
Also make sure to check out the recipes on the Little Bay Baking website. These recipes show fantastic ways to make family-favorites out of their baking mixes, including: Apple & Spice Bars and Peanut Butter Cookies out of their Cookie Bar Mix; Blueberry Buckle and Pineapple Upside Down Cake out of their Waffle & Donut Mix; and  Whoopie Pies, Snickerdoodles, or Lemon Poppy Seed Muffins with Lemon Glaze out of their Vanilla Cake Mix.
Convenience, ease of use, versatility and made-from-scratch taste are all the reasons I am so excited Little Bay Baking is the sponsor of BeFreeForMe's WIN-It-Wednesdays for the next two weeks.
Little Bay Baking has graciously offered a total of six (YES 6!) Prize Packages full of their delicious baking mixes. The first week we will pick three (3) winners and the Prize Package will include: a Pumpkin Bread Mix, Corn Bread Mix and a Cookie Bar Mix. The second week we will pick three winners and the Prize Package will include: Ginger Bread Cookie Mix, Yellow Cake Mix, and the Waffle/Donut Hole Mix.
How can you win?
EASY!
Reply to this blog and let us know the one thing you love about the change of seasons (Mine? Taking long walks in the cool weather so I can take the time and focus my attention on relishing the vivid fall colors… all the while kicking up the leaves under my feet!)
Six randomly picked winners will be chosen as winners. Three winners will be selected from all entries posted before Tuesday, 10/06/10 12 midnight EST; and three winners will be selected from the entries posted between Wednesday, 10/07/10 and Tuesday, 10/12/10 midnight EST.
Enter EACH WEEK to increase your chances of WINNING!
Good luck, cherish the changes in the seasons and in your life… and as always…
Be Free!