WIN-It-Wednesday: Cabot Cheddar Cheese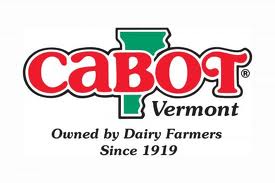 I love being cheesy. I love my life to be as cheesy as I can get it. The more cheesy my life is – all the better for me.
And although I secretly liked The New Kids on the Block and The Brady Bunch, I don't mean cheesy in a sappy 1980's boy band or a sugary-sweet sitcom type-of-way. But what I do mean is cheesy as in a gooey and warm Baked Gluten-Free Macaroni & Cheese, or cheese generously sprinkled on my nachos type-of-way.
And my favorite way to get the most cheesiness in my life… Cabot Creamery.
Cabot Cheddar Cheese is all natural, crafted and aged by the farm-family owners of 90-year-old Cabot Creamery Cooperative without any additives or preservatives. It's lactose free, gluten free, calcium-rich and delicious, the winner of national and international competitions as "the world's best cheddar."
In my book, Cabot is the "Big Cheese" of the world!
Cabot Cheddar Cheese comes in the traditional Sharp, Mild and Extra Sharp varieties (as well as their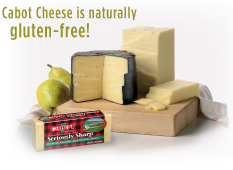 signature Private Stock Cheddar) and so many yummy flavors like Habanero, Chipotle, Sun-Dried Tomato & Basil, Horseradish, Chili-Lime and Tuscan. The flavored cheeses are just screaming to be used in your favorite recipes, and are a great springboard to create your own signature dishes, or use in the tried-and-true recipes featured on Cabot's website. (Make sure you check out the gluten-free recipes on the Cabot website including the Chicken & Sweet Potato Pie or the Cauliflower Macaroni & Cheese (Fun Note: They even have recipes for your pets on the website… Hey, pooches, including Sadie the Incredible Boxer, love cheese too!)
I never met a Cabot Cheese I didn't love, but my favorite Cabot Cheese is the 50% Reduced Fat Jalapeno Cheddar. It has all the full-fat flavor, but made with 1.5% milk. I also love that Cabot is a cooperative and owned by 1200 dairy farmers and their families in New England and New York – purchasing Cabot is a great way to support local farms! To find out more about how to support local farms check out this informative website KeepLocalFarms.org. It is such a great cause, so be sure to check it out.

I am excited to announce that Cabot is this week's sponsor of BeFreeForMe's WIN-It-Wednesday. Being naturally gluten-free and lactose-free make it the perfect cheese for many of BeFreeForMe members – plus the flavors and varieties are fantastic for snacking or cooking.
Cabot Cheese is offering THREE (Yes… 3!) Lucky BeFreeForMe members a 2-pound Gift Box packed with an assortment of Cabot Cheddar Cheeses shipped direct to your home.What a great gift!
How can you win?
Easy!
Reply to this blog and let us know the flavor of Cabot Cheese that sounds the tastiest to you. Also, feel free to share your favorite cheesiest thing, whether it related to food (Me? Gluten-Free Baked Macaroni & Cheese) or non-food (Me? My beloved classic Partridge Family Fan Club booklet… yes, I still have it!)
All entries must be received by Tuesday, September 21, 2010 at 12:00 Midnight EST.
Good Luck, Cheesiness Rules… and as always,
Be Free!
Tags: Cabot Cheese Gluten Free, Cabot Cheese Lactose free, Cheese Recipes for dogs, Win-It-Wednesday