Tuesday, September 7th, 2010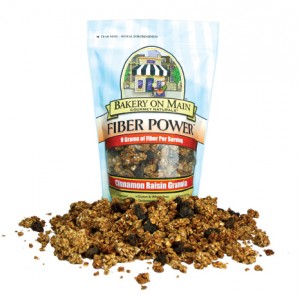 It's that time of year again when routines are back in place, alarms are going off every morning, and breakfasts are a must to start each day off on the right foot.
But sometimes finding tasty breakfast ideas that are gluten, dairy and casein free can be a struggle. But with Bakery on Main Granola you can not only find several varieties of granola (and granola bars!) that are not only good tasting, but good for you too.
Made with whole grain gluten-free oats, Bakery On Main's  granola is free of cholesterol, trans fat, refined sugars, gluten, dairy & casein. It is a crunchy, sweet and flavor-packed granola that is great for breakfast, a mix-in with yogurt, or even eating by the handful.
Bakery On Main also makes granola bars that are great for mid-morning or afternoon snacks. Convenient and crunchy these bars are perfect for lunch boxes, backpacks or brief cases.
My favorite Bakery on Main product is the Fiber Power Granola. I love that this granola has 9 grams of fiber and is still low in fat. It is perfect stirred up in my favorite fat-free Greek yogurt or eaten by the handful for a breakfast or snack on the run. It comes in two flavors Triple Berry and Cinnamon Raisin.
In the past, Bakery on Main invited BeFreeForMe members to sign-up for their monthly savings newsletter to get the most updated coupons & specials, as well as a FREE downloadable $1.50 OFF Coupon. If you haven't done so yet, make sure you sign up to get this coupon soon… availability may be limited!
And lucky us… Bakery on Main has once again graciously offered to sponsor this weeks WIN-It-Wednesday on BeFreeForMe.com!
Three (yes 3!) LUCKY BeFreeForMe members will receive a Bakery on Main Gift Set. This gift set consis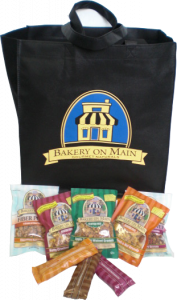 ts of a tote bag made from 100% recycled materials, filled with 1.5 ounce gluten free granola snack packs in the Apple Raisin Walnut, Nutty Cranberry Maple and Extreme Fruit & Nut flavors; 2 ounce Fiber Power gluten free granola snack packs in both the Triple Berry and Cinnamon Raisin flavors; and 1.2 ounce gluten free granola bars in the Peanut Butter Chocolate Chip, Cranberry Maple Nut and Extreme Trail Mix. What a prize this is! Perfect for back to school because it includes bars and snack packs which can be a great on-the-go breakfast, easy to pack in a lunchbox, or great for an after school snack.
How can you win?
Easy!
Reply to this blog and tell us how you start your day off on a positive note. (Me? I take Sadie the Boxer for a long walk in the mornings… a perfect way to get some exercise in, clear my head for the day, and spend time with my perfect pooch!)
All entries must be received by Tuesday, September 14, 2010 at 12:00 Midnight EST.
Good Luck, Keep positive… and as always,
Be Free!