WIN-It-Wednesday: "125 Gluten-Free Vegetarian Recipes" Cookbook by Carol Fenster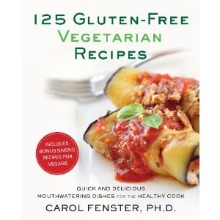 The summer is here, the gardens are giving us plenty and we are all looking for some tasty and delicious gluten-free recipes to use up the excess tomatoes, squashes, peppers and herbs that are bursting out of the garden gates.
That's why I was so excited when I received a copy of Carol Fenster's new cookbook, 125 Gluten-Free Vegetarian Recipes: Quick and Delicious Mouthwatering Dishes for the Healthy Cook
along with 2 extra copies to be awarded to two lucky BeFreeForMe members for this WIN-It-Wednesday.
Before I tell you about the cookbook, let me tell you about Carol Fenster, the author of this and many other gluten-free cookbooks that are a life-line in my kitchen. Carol is one of the foremost experts on gluten-free cooking and the author of several popular gluten-free cookbooks including: Gluten-Free Quick & Easy, 1000 Gluten-Free Recipes, Gluten-Free 101, and 100 Best Gluten-Free Recipes. Carol also consults worldwide and speaks frequently at national conferences. Carol Fenster is one-of-a-kind. I only wish I had her talent and culinary expertise. (Note: Make sure you follow Carol on her blog CarolFensterCooks.com)
Now…let me tell you a little about this cookbook, the prize that two lucky BeFreeForMe winners will claim after this WIN-It-Wednesday contest ends. 125 Gluten-Free Vegetarian Recipes: Quick and Delicious Mouthwatering Dishes for the Healthy Cook
Cookbook will be a staple for anyone that is following a gluten-free and a vegetarian lifestyles. I personally am not a "full-time" vegetarian, but understand the importance and strive to make vegetables, fruits, gluten-free grains and tofu the "main course" of many of the meals that I make for myself and my family.
I figure if I can make more meals with vegetables without missing meat AND the meals taste delicious… why not? This cookbook has given me tons of ideas and recipes to get me on this track of healthy eating. (Smothered Bean Burrito with Green Chili Salsa or Old-Fashioned Vegetable Pot Pie with Savory Pastry Crust, anyone?)
All these delicious reasons and recipes are why I am thrilled that this week's WIN-It-Wednesday on BeFreeForMe.com is sponsored by Carol Fenster – the author of "125 Gluten-Free Vegetarian Recipes".
How can you win?
Easy!
Reply to this blog and tell us what vegetable you'd like to discover more recipes for. (Me? Eggplants. I love them… but sometimes, I'm not sure what to do with them besides the basic Parmesan.)
A total of TWO BeFreeForMe members will be selected to win the "125 Gluten-Free Vegetarian Recipes" Cookbook. One (1) winner will be randomly selected from the entries received before Tuesday, July 19, 2011 at 11:59 PM EST, and one (1) more winner will be randomly selected to win from the entries received between Wednesday, July 20 and Tuesday, July 27, 2011 at 11:59PM. SO – make sure you enter to win two times!
Good luck, remember to eat your veggies… and as always,
Be Free!
Tags: 125 Gluten-Free Vegetarian Recipes, Carol Fenster, Win-It-Wednesday