Tuesday, June 8th, 2010
When you have celiac disease or food allergies it can be a challenge to pack healthy, nutritious and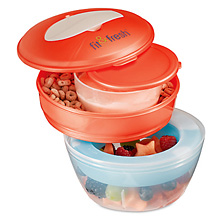 satisfying meals-on-the-go everyday. Throw into the mix what type of container to put it in and the hassle of mealtime packing can make any morning an unbelievably stressful one.
This is why I was so glad to find (and may I add, use daily) Fit & Fresh containers. These convenient transportable lunch containers not only keep my cereal, sandwiches, salads and snacks safe & secure, they also keep them nice & cool on these warm summer days. The best part about these containers are they contain removable ice packs to keep my food fresh and chilled until mealtime!
Ingenious! Clever! A must-have for any gluten-free gal like me!
These containers are tough too. Sturdy, freezer-safe, easy to clean (dishwasher top-shelf safe) and also microwavable… which is important when I need to heat leftovers. (Plus, they're BPA free).
One of the lunch kits that Fit & Fresh offers is perfect for any type of lunch or snack… the Healthy Food Combo Pack. It contains a Lun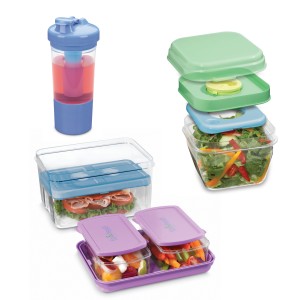 ch-on the-Go, which holds a sandwich or entrée, plus two side dishes or snacks; a Salad Shaker, for those days you want to bring a salad on the go, which is equipped with a separate salad dressing dispenser; plus a Chilled Shaker, that is perfect for my breakfast fruit & flax seed smoothie!
Kid's also love these lunch kits too. Perfect for summer camp, long car rides or school lunches, these lunch kits come in the perfect size for kid-sized meals and kid-approved colors! The best part is that Fit & Fresh is coming out with a brand new kid's lunch set for back-to-school. This kit (which will be available to purchase in the next week or two) contains a hot lunch container, which is fantastic for keeping almost any food warm until lunchtime and contains a unique re-usable spoon that snaps into the lid (can you say… no more lost silverware?); a Lunch POD for any sandwich; plus two smart portion 2-cup containers and two smart portion 1-cup containers, for a variety of sides, veggies, hummus, dips, puddings, jello – or anything that needs to be kept cool. What kid can resist a healthy gluten or allergen free lunches when they're packed in such cool containers?
Whew! Just writing this has started me thinking about the rest of this week's lunches!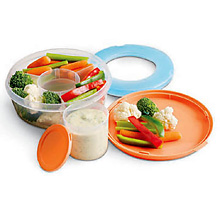 Some of my other favorites from Fit & Fresh are the Fruit & Veggie Bowl (a favorite for bringing to the beach) and my Breakfast Chiller (Gluten free granola, milk and a fruit topping on the run? It's not just a dream anymore! See the picture of this breakfast lovin' tote at the top of this blog post.)
Quick & easy healthy lunches, cool colors, snap-in ice packs & making our gluten & allergen free lives easier are all of the fantastic reasons why I am so excited that Fit & Fresh is this week's WIN-It-Wednesday sponsor on BeFreeForMe.com!
FIVE (yes…you read it right 5!) lucky BeFreeForMe members will win a prize pack that includes one (1) adult Healthy Food Combo Pack and one (1) brand new Kid's Healthy Lunch Set (this set is so new it isn't even on the Fit & Fresh website yet)! Each prize is valued just about $42.00!
How can you win?
Easy?
Reply to this blog and tell us your fresh idea for eating healthy (Me? I incorporate milled flax seed into my breakfast yogurt or smoothie in the morning for an extra protein boost!). All entries must be received by Tuesday, June 15th at 12:00 midnight EST.
Good luck… Always, always stay a little fresh… do your best to be fit… and as always…
Be Free!