Friday Favorite: Bhuja Snack Mix. Take a Walk on the Spicy Side.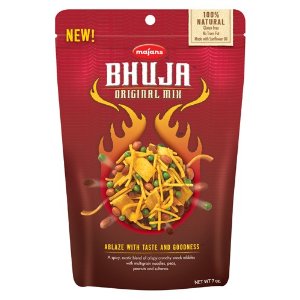 Last month, as I was wearily making my rounds down one of the last aisles of a natural food show I walked into one of the most amazing snacks of all times: Bhuja Snack Mixes.
Bhuja made my walk down aisle #2305 a walk down the spicy side.
A multigrain snack that's 100% natural, gluten-free and no trans fats this snack must be tried. But be forewarned… you may unintentionally eat a whole bag in one sitting.
My favorite is the Nut Mix. A spicy, exotic blend of crunchy gluten-free multigrain noodles, crispy peas, peanuts, cashews, almonds… all blended together with flavorful and unforgettable spices.
Bhuja is one of those snacks you have to try for yourself. Go for a walk down the spicy side and try for yourself.
Tags: Bhuja Snack Mix, Friday Favorite