Friday, April 22nd, 2011
In Boston there are certain foods & drinks that are a huge part of our heritage and history. And the sweetest of all? The official dessert of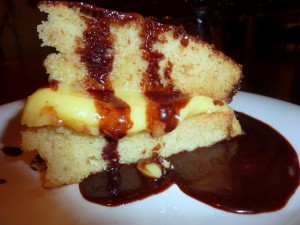 Massachusetts, the Boston Cream Pie.
But being on a gluten-free diet, I need to resort to baking my own sweet custard filled and chocolate glazed disk of sweetness… right in my own kitchen. But by the time, I make the cake, make the cream filling and then whip up the chocolate glaze I've ending up spending hours in the kitchen, and most of my day is gone.
That is why I am so excited to share this recipe for a super-easy Gluten-Free Boston Cream Pie. Made with Betty Crocker Gluten-Free Yellow Cake Mix, Jell-O Instant Vanilla Pudding and a one-saucepan super quick chocolate glaze. I guarantee you can have this dessert on the table in no time. And said like a true Bostonian… it's wicked, wicked good.
Wicked Good Gluten-Free Boston Cream Pie
1 package of Betty Crocker Vanilla Cake Mix (Check label for allergens)
Note: To make the cake you need ½ cup butter (softened), 1 teaspoon gluten-free vanilla, 2 eggs and ½ cup of milk or butter)
1 5.1-oune package of Jell-O Instant Pudding & Pie Filling (Check label for allergens)
Note: To make the pudding you need 3 cups cold milk
4 tablespoons water
2 tablespoons light corn syrup
2 tablespoons butter (or substitute)
2-3 teaspoons corn starch
2 tablespoons cocoa powder
1 ½ cups Confectioners sugar
1 teaspoon vanilla extract (Check label for allergens)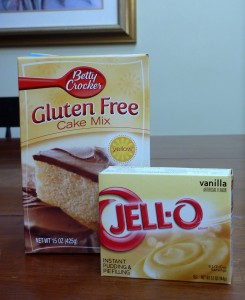 Make the cake according to package directions, baking in two 8-9" cake pans. Let the cakes cool before removing from the pan. (Note: Short on time? You can make the cake a day ahead, if needed).
Prepare the pudding mix according to package directions. Allow to set.
While the pudding is setting, prepare the glaze. In a medium saucepan, over high heat, bring the water, corn syrup and butter to a boil. Remove from the heat and stir in the cornstarch and the cocoa powder. Next add the Confectioners sugar and the vanilla, and whisk until well blended.
Place one of the cakes on a large cake plate, and evenly spread the pudding on top. Next, set the second cake on top. With a spoon, drizzle half of the chocolate glaze over the top of the cake, letting the glaze drizzle down the sides of the cake.
Refrigerate for about 1 hour before serving – and serve with the additional chocolate glaze for additional drizzling.
Serves 1 to 10… depending on portions   =)