WE TRIED THEM! It's Not a Crock: Betty Crocker Gluten-Free Baking Mixes Exist!
When I first heard, I thought it was too good to be true. The behemoth of food companies, G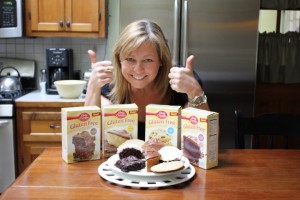 eneral Mills, was coming out with a new line of gluten-free baking mixes. Too good to be true. I needed to see it to believe it.
So, I called a good friend in the food industry that was able to get me boxes of the four gluten free varieties: brownie mix, chocolate chip cookie mix, yellow cake mix and devil's food cake mix. 
When the FedEx driver showed up at the office door I practically pounced on him.
I ripped open the box, and literally just stopped and stared.
To hold in my hands baking mixes that said "Betty Crocker" and "Gluten free" together – right on the same box – blew me away.
Blew me away.
Sure I've seen gluten-free baking mixes before. But this is big news. General Mills, yes folks – General Mills, one of the world's largest food companies that has products in over 100 countries and owns not only Betty Crocker, but other well-known brands such as Pillsbury, Bisquick, Green Giant and Cheerios has noticed us celiacs. It makes me giddy. It makes me beam.
It makes gluten-free mainstream.
And here's the best part. The products are phenomenal too! "Moist", "chewy" and "super chocolaty" are some of the adjectives used to descri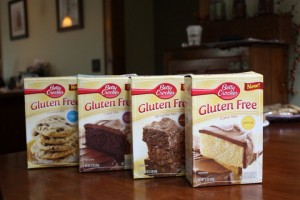 be them.
To make things engaging, I decided to have a taste test. I recruited some gluten-eating friends & family, blindfolded them and had them try both the Gluten Free Betty Crocker Mixes along with the traditional gluten-filled Betty Crocker comparable mixes.
Very interesting outcomes! Check back for the taste test results of the "Betty Crocker Gluten-Free Challenge" in my next few blog postings.
Oh, and also, Mr. FedEx Man – I apologize for almost knockin' you down in my sheer excitment. To make it up to you, I'll have some really good gluten-free goodies for you tomorrow.
Tags: Betty Crocker gluten free baking mixes, general mills gluten free products, gluten free baking mixes