Thursday, May 7th, 2009
Gluten-FREE Chocolate Chip Cookie Mix vs. Gluten-FULL Chocolate Chip Cookie Mix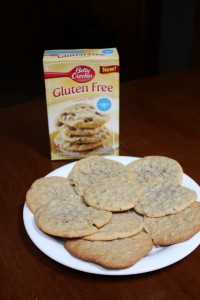 The third and final round of the Betty Crocker Gluten Free Challenge, where gluten-eating friends and family compared the new Betty Crocker gluten-free baking mixes against the traditional gluten-filled Betty Crocker comparable mixes, is the taste-test for the CHOCOLATE CHIP COOKIES!
I was really excited to try these since I am a real cookies and milk kind of gal. I prefer the simpler of sweet treats. For me no fuss, quick, easy to prepare… and no fork required is a plus!
The results of the taste-test are as follows:
 – The Gluten-FREE cookies were just as moist and chewy as the Gluten-FULL ones.
– The sweetness and flavor were almost identical.
– The Gluten-FREE cookies were thinner and "spread out" more during baking… which resulted in a thinner, not as "cakey" cookie. I actually liked this!
– The only downfall with the Gluten-FREE version is that it did not have as many chocolate chips as the Gluten-FULL kind. (Adding more on your own may be a solution?)
As an added bonus, the Gluten-FREE cookies stayed "moister" longer than the Gluten-FULL type. A couple of days later the Gluten-FREE cookies were still soft, chewy and just as yummy as right-out-of-the-oven!
The ingredients needed to make the Gluten Free Chocolate Cookies were: 2 teaspoons gluten-free vanilla, 2 eggs and 5 tablespoons butter (Note: there are instructions on the General Mills website explaining how to make the brownies if you want to substitute the butter). The package ingredients do include soy and milk.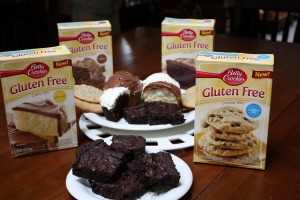 Now that I am wrapping up my final Betty Crocker Gluten Free Challenge, I want to thank those "smart cookies" over at General Mills. I lift my cookie-crumbed-filled glass of milk up high and toast you on a job well done…"Let Them Eat Cake!"