Monday, May 4th, 2009
Gluten-FREE Chocolate Brownie Mix vs. Gluten-FULL Dark Chocolate Fudge Brownie Mix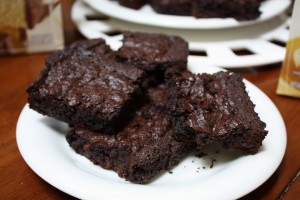 The first round of the Betty Crocker Gluten Free Challenge is about to begin! In this challenge,  gluten-eating friends and family compared the new Betty Crocker gluten-FREE baking mixes against the traditional gluten-FILLED Betty Crocker comparable mixes. The first taste-test is for the BROWNIES!
First, let's get one thing out of the way:  The picture on the box does these splendid pieces of gluten-free dark chocolaty, chewy squares of joy no justice! I would call the picture on the box a "beige-y" – not a "brownie". Know how the pictures of food on packaging (with the words "serving suggestion" in ultra-small print) usually looks way better than the food in real life? Well, the opposite rings true here. For proof, see the pictures of the actual gluten-free brownies in this post.
The gluten-free mix actually has tiny little chocolate chips in it, which makes the brownies extra decadent and chewy. The ingredients needed to make the gluten-free brownies were: 2 eggs and 7 tablespoons butter (Note: there are instructions on the General Mills website explaining how to make the brownies if you want to substitute the butter). The package ingredients do include soy and milk.
And the RESULTS: ALL of the taste testers preferred the gluten-free version over the "cakier", "harder" and "less chocolaty" traditional gluten-filled mix!
Some of the comme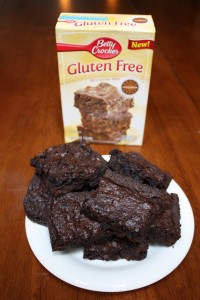 nts about the gluten-free brownies included:
* "A much more chocolaty taste"
* "Chewy!"
* "Excellent!"
* "This one is better… way better. This is the one with the gluten, right?" (Note: WRONG! How about THAT comment!)
When I told all the participants that the one they ALL liked by a long-shot was the gluten-free brownie they couldn't believe it, and even questioned if I mixed up the two!
In summary: The new Betty Crocker Gluten-Free Brownie is a keeper! Phenomenal! Line up now for the anticipated summer arrival!
 
Additional Notes:
Many of you have emailed me asking if I knew why General Mills decided to take this leap of gluten-free faith and develop a whole line of gluten free baking mixes. The truth is t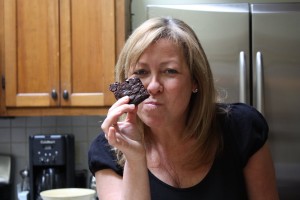 hat they have a few employees that are on a gluten-free diet, and according to General Mills, "Their experiences opened our eyes to the challenges families face following the diet. It's hard to be different, especially when it affects sweet moments with friends and family. No one wants to miss sharing a birthday cake or see their child have to turn down a homemade cookie from a buddy after a game."
I say "Cheers!" and "Second's please!" to that! =)