Thursday, April 23rd, 2015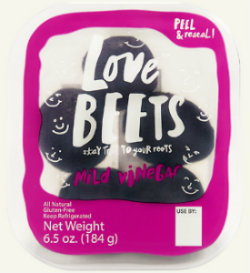 I've recently revisited one of my favorite veggies from when I was younger, and I can't get enough of them! BEETS!
Yes, BEETS! But the only problem is I hate the "tin can" taste of beets from a can. That is why I was so super excited to find Love Beets – Cooked beets that are ready for anything.
When I was younger my Mom would serve them up heated, as a side dish. But recently I've discovered that beets are ready for anything and can be enjoyed in many more ways than I could imagine.
Beets are great chopped on salads (my favorite salad to add them to is a Cobb Salad), or sliced and sprinkled with a touch of champagne vinegar and kosher salt. I also love the recipes that are featured on the Love Beets website, like this Grilled Cheese with Beets & Basil Aoili or Quinoa Beet Burrito Bowls with Cumin-Lime Tahini Dressing.
Love Beets are all natural, gluten-free (note that all of the the Love Beets  are gluten-free with the exception of one variety of the Baby Beets… the Honey & Ginger), contain no preservatives, and are Non-GMO. The Cooked Beets come in a 8.8 ounce packages packed with larger beets that are great for slicing or a 6.5 ounce size of baby beets which are perfect for snacking. I however, buy my Love Beets at BJ's Wholesale Clubs that have a club-sized packages that are perfect for satisfying my new-found and obsessive love for beets. =) If you want to find where you can find Love Beets near you, check out this link.
All of these reasons are why I am so very grateful I have re-found and re-fallen back in love with Beets. Congrats Love Beets on being this week's Friday Favorite on BeFreeForMe.com!