Win-It-Wednesday: Scratch & Grain Gluten Free Cookie Kits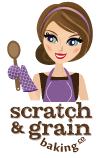 If you love baking from scratch, but you hate the mess, hassle and expense you are going to love Scratch & Grain Gluten-Free Cookie Mixes.
These kits are perfect for baking a batch of cookies the old-fashioned "by scratch" way without needing to spend tons of money on ingredients that you'll probably never use again.
The concept was the brainchild and developed by two neighborhood Moms (Taya and Leah) that wanted to make homemade baking fun & easy. So they went to work to creating a baking kit that had all the BEST ingredients measured out individually so everyone would know what is in their food, as well as making it a fun and easy experience.  Each kit makes 11 to 14 cookies.
And although neither Taya or Leah are gluten-free, they both have close family members that are (including Leah's mom and daughter). Because of this, they wanted to make sure that they also created gluten-free versions of their cookie mixes so that folks on a gluten-free diet could also enjoy home-made and from scratch cookies that would taste incredibly delicious.
The results are three total delightful and incredible gluten-free Scratch & Grain Cookie mixes. The varieties are fun & tasty. They are: Chocolate Truffle,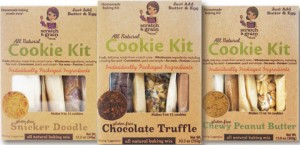 Snicker Doodle & Chewy Peanut Butter. All you need to add is egg and unsalted butter for each kit, and they provide the rest! How simple is that!?
The cookie kits are also Non-GMO, and contain no preservatives.
And if you think this "cookie kit" idea is totally brilliant check out this link to see the video clip of Taya & Leah when they visited Shark Tank! (And YES… They did get a deal! Click on this link to check them out on Shark Tank and find out what shark also thinks their idea is out-of-this-world too!)
All of these yummy and convenient reasons are why I am so thrilled that Scratch and Grain Gluten-Free Cookie Kits are sponsoring this Win-It-Wednesday on BeFreeForMe.com.
A total of two (yes, 2!) BeFreeForMe.com members will be randomly selected to win a Gluten-Free Cookie Kit variety pack (Each variety pack consists of 3 total kits… one of each of the gluten-free varieties).  One (1) winner will be randomly selected from the entries received before Tuesday, April 28, 2015 at 11:59 PM EST, and one (1) more winner will be randomly selected to win from the entries received between Wednesday, April 29 and Tuesday, May 5, 2015 at 11:59PM. SO – make sure you enter two times to win!
How can you win?
Easy!
Reply to this blog and tell us what Gluten-Free Cookie Kit looks the best to you? Is it the Chocolate Truffle? Snickerdoodle? Or the Chewy Peanut Butter?
Good luck, remember that homemade simple goodness is always the tastiest … and, as always …
Be Free!
PS: Want to learn more? Check out Scratch and Grain's Facebook , Twitter and Instagram pages!
Tags: Easy homemade gluten-free cookies, Gluten-Free Cookie Mixes, Scratch and Grain Cookie Mix, Win-It-Wednesday